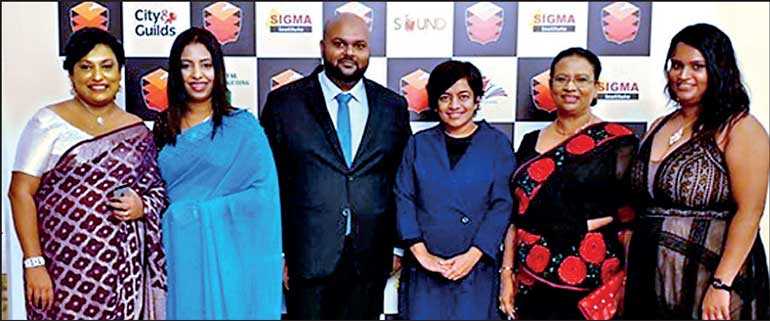 ---
The inauguration ceremony of STEP Campus was held on Thursday 29 August at Solis Hotel, Pitakkote.

The inauguration was attended by Sri Lanka Foundation Chairman Sarath Kongahage as Chief Guest, Innova Strategies CEO Dr. Madhu Fernando, University of Vocational Technology Board Member Dr. Ruwan Abeysekara, STEP Campus Chairperson Kanthi Kulasiri, STEP Campus CEO/MD Sandun Kulasiri, STEP Campus CFO Madushi Kulasiri, STEP Campus General Manager Sulakshana Ratnayake, management and staff of STEP Campus and the staff of Sigma Institute, as well as other corporate leaders and representatives.

The STEP website launch and the City & Guilds UK launch was also held during the event.

Sigma and Shilpa Institutes' 20 years of excellence was crowned with the opening of the Sigma Tertiary Education Pathway Ltd. commencing its journey in Sri Lanka as the leading tertiary education provider in Sri Lanka.

Branded STEP Campus, it offers Certificate Level Programs, Diploma Level Programs, Higher National Diplomas, Pre-University Foundation Programs, Undergraduate Programs and Postgraduate Programs in association with leading university and service providers in United Kingdom, Australia and Sri Lanka.

STEP Campus has its state-of-the-art main campus in Colombo and a branch campus in Horana, with a faculty comprising academically and professionally qualified lecturers. The learning and teaching environment of STEP includes modern and structured training methods designed for real learning and research culture that enables inspiration and modernisation.

STEP Campus amenities include libraries, air-conditioned lecture halls with latest teaching aids, fully-equipped computer labs, student recreation facilities, a cafeteria, book shop and Wi-Fi facilities to provide the best training experience for students. STEP Campus English studio conducts a range of English programs while International Education offers students free guidance and counselling services for obtaining admissions to top universities in the world.

Presently STEP Campus delivers courses in to Audio Production and Conceptual Music, Digital Marketing, Teacher Training, Software Engineering, Web Engineering, English, etc.