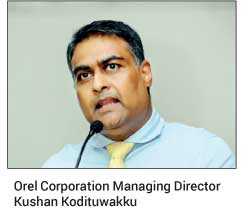 Orel Corporation, the parent company behind Orange Electric, recently launched Orel Classroom, a solution aimed at revolutionising learning by bringing out the best characteristics of the next generation of technological innovators. The launch event concluded successfully at Thurstan College, Colombo 7, amid much appreciation and fanfare from students and teachers alike.

The Orel Classroom solution comprises a comprehensive suite of technology- and IoT-based educational devices, services and other incentives with the goal of nurturing and further developing Sri Lanka's youth in order to prepare them to take on rapidly evolving trends in the local and global marketplaces. The application and usage of the solutions provided by Orel Classroom will ensure that the future leaders and innovators present in Sri Lanka's technology sector will be ready to take on the world.

Orel Classroom's game-changing concept was brought to life when Orel Corporation was commissioned by the Ministry of Telecommunication and Digital Infrastructure, together with the Ministry of Education, to develop a training kit that would enable students to learn about electronics and programming. As Orel Corporation has been a longstanding partner of Farnell, and the official distributor of BBC micro:bit and Raspberry Pi, Orel used this strategic advantage to design a training kit around these two pieces of hardware. The result was a product named OrelBits, and thereby the Orel Classroom initiative was born. Several electronic devices specifically built for teaching and inspiring young minds are present as a part of this training kit. IoT kits, sensors kits and 3D printers that are fully compatible with Orel Bits are inclusive in the Orel Classroom suite. Orel Corporation has also gone the extra mile to ensure that out-of-classroom resources are available to students online. Elements such as a learning space, forums, an archive of tutorials for various devices, learning material, and lesson plans, can be easily accessed online by students anywhere and at any time.

As innovation and technology are the essence of the Orel Corporation, this socially responsible initiative stands as an example of their values in moulding people to be upstanding individuals at work, putting Sri Lanka at the forefront of technological innovation in the South Asian region. Following the success of its initial launch at Thurstan College, the Orel Classroom solution is expected to be made available in more schools across Sri Lanka, further empowering the country's aspiring youth.