1 Kumon Dehiwala Completers 2019 with their awards
The Kumon Dehiwala Learning Centre successfully conducted its Advanced Student Honour Roll (ASHR) award ceremony recently.

The ASHR is Kumon's most prestigious internationally recognised program and rewards students who are learning in one or more grades above their current school grade. Kumon aims to empower and motivate students to achieve a distinction grade for doing advanced work. The awards ceremony drew the attendance of over 150 students while Thariq Thulba and Lihini Fernando graced the occasion as the Chief Guests for the evening.

Kumon Dehiwala has nurtured 162 subjects, with 17 Kumon program completers emerging in 2019, including the first-ever Math Level X program completer in Sri Lanka (the Math Level X program involves studying advanced math in terms of statistics, probability, matrices, vectors and triangles).


The ASHR is an event which aims to encourage students to progress beyond their school grade level, thereby assisting them to reach their maximum potential. Defying traditional educational principles, which restrict a child to a certain level of learning in line with their age, the Kumon method is about individualised instruction, structured in a manner which harnesses a student's potential by identifying their unique strengths and abilities.

Conceptualised by Toru Kumon over 60 years ago, the Kumon method is about 'learning by ability, not by age'. Students learn mathematics and reading concepts and advance in the program at their own pace, while understanding and mastering essential skills.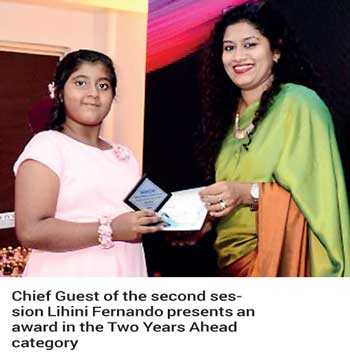 Emphasis is placed on individualised learning, staying focused, motivated and self-reliant. The ultimate benefits of the Kumon method are achieved through long-term commitment, patience, perseverance, consistency, communication and motivation. A student who learns through the Kumon method is able to achieve a strong academic foundation, develop critical thinking and problem-solving abilities while developing vital life skills that go a long way into adulthood. This correlation between social maturity and studying beyond the school's grade level is considered one of the most beneficial chapters of the Kumon method.

"Children are born with unlimited potential. As adults and educators, it is our goal to unleash this potential, letting the child excel by developing his or her ability with correct guidance and instructions. Kumon is the largest after-school learning program in the world. I feel privileged to spearhead the Kumon learning experience in Sri Lanka and I look forward to expanding the potential of Kumon to more students across the country," said Femidah Wahid, Franchisee-Kumon Dehiwala, Sri Lanka.

"Another key benefit of the Kumon method is that it is a thorough educational system. Unlike traditional tutoring, the Kumon method starts by reviewing the basics, ensuring we build on a solid foundation with no holes in the foundation. Students who have learnt with the Kumon method are more confident and have a greater sense of self-esteem, while being able to think of solutions independently when faced with difficult challenges. In essence, the Kumon method grooms these students to develop vital skills which enable them to become capable and diligent employees as they enter the workforce," she added.

The Kumon Dehiwala learning centre is equipped with state-of-the-art facilities in comparison to other Kumon centres in Sri Lanka. The centre is renowned across the Kumon India Sri Lanka region as the largest Kumon centre and has won over 10 prestigious awards of excellence and recognition amongst 140 centres across India and Sri Lanka.

In December 2016, the centre marked a significant milestone when it reached a 500-subject count within two years of establishment while also priding itself on nurturing 45 program completers within a period of five years.

The centre's new premises are located at No. 21, Hill Street, Dehiwala. For further queries or information about the program, call 072-073 0448 or 077-697 4935 or follow the official Kumon Dehiwala Facebook page.