Award winners at the Kumon Asia Oceania conference 2019
---
In recognition of its outstanding performance in 2019, the Kumon Dehiwala Learning Centre was presented with an Award of Excellence at the prestigious Kumon Asia Oceania (K.A.O) conference 2019 held in Sydney, Australia.

The Kumon Dehiwala learning centre was recognised as one of the top five centres for achieving the highest numbers of J by 6 category students (across 2400 Kumon centres globally) in the year 2019. The J by 6 category is awarded to students who successfully reach Kumon math or reading program J level (which is considered as 10th grade school level by the national standard) when they reach 6th grade.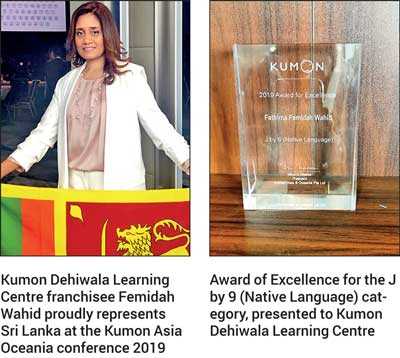 Furthermore, this is the first time a Kumon centre, amongst 140 Kumon centres in the India and Sri Lanka region has won an international award of this nature, significantly within a short span of five years since its establishment.

Awards were presented to Kumon centres in recognition of the percentage of students each centre has nurtured in studying content above its school grade level. This means that the Kumon Dehiwala Learning Centre has secured a high number of students in grade 6 or below, who are studying content beyond the ordinary level English standard.

"It is indeed a great achievement for the Kumon Dehiwala Learning Centre as well as for Kumon in the region of India and Sri Lanka overall, to be the first centre to receive this award. This event helped to highlight the achievements of our team at Kumon Dehiwala Learning Centre and gives us a platform to acknowledge the hard work, vision, dedication and effort that our team has put into delivering excellence at every touch point. I hope to continue to enable my staff and students to succeed on multiple fronts and truly live by a culture of excellence," said Kuman Dehiwala Learning Centre franchisee Femidah Wahid. The theme of this year's K.A.O conference was 'Make a difference from day one' and the conference highlighted the importance of focusing on young learners aged 6-11 years of age. The Kumon method focuses on the importance of considering the skills and attributes a child needs to be successful, without confining his/her learning to the traditional school work and home work. The Kumon method urges the need to reassess the current study approaches that children are exposed to, by enabling them to learn for themselves independently. Many Kumon instructors from around the world shared their knowledge and experience in advancing the Kumon method in their respective countries whilst high performing instructors were felicitated for their outstanding service across different categories.

Kumon is the world's largest after school learning program that defines learning by ability and not by age. Through the unique Kumon method, students advance in the program at their own pace, whilst mastering essential skills in math and language. Emphasis is placed on individualised learning and harnessing the potential of each student. Students who are exposed to the Kumon method develop a strong academic foundation, develop critical thinking and problem-solving abilities and other essential life skills at a very young age.

Visit the Kumon Dehiwala Learning Centre at No. 21, Hill Street, Dehiwala to obtain a limited time special introductory offer for new registrations. For further queries or information, contact the hotline on 072-073 0448/077-697 4935 or follow their official Facebook page – Kumon Dehiwala.