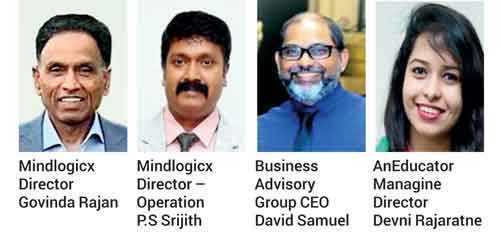 India based technology company Mindlogicx Ltd., specialised in providing examination management services to universities, school boards, recruitment boards and corporates, formally entering Sri Lanka through a strategic partnership agreement signed with Business Advisory Group Ltd., a business consultancy company that specialises in international trade, investments, and education.

Mindlogicx headquartered in Bangalore has presence in Ireland, UK, Dubai and USA besides having large partner network across the globe including East Africa, South Africa, Israel, and Egypt. The company is a pioneer in the examination management market segment with highest credentials that no other company in the world can match by serving over six million users with its product called IntelliEXAMS.

Mindlogicx partnership with Business Advisory Group to enter Sri Lanka, the company is confident about providing value added services to the educational institutions in the country. Its globally acclaimed product, the company will be able to address various challenges in conducting various high-stake examinations for education institutions while taking care of security, data anonymity and test integrity. The technology suite is expected to address challenges such as question paper leakage; scams during evaluation; tampering of answer sheets; and transcripts.

Explaining the features, Mindlogicx Director Govinda Rajan based in the Netherlands said: "The software enables Just In Time (JIT) delivery of question papers using industry standards encryption with location and time stamp as water mark to address QP leakage issues and provides solution for tamper proof evaluation of hand written answer script. The technology suite provides solution for impersonation of candidates and prevents malpractices doing the online exams with safe exam browser and proctoring."

Commenting on the partnership, Business Advisory Group CEO David Samuel said, "We are excited to bring the world-class technology to Sri Lanka from one of the best technology companies in the world. We want to make the technology available to all stakeholders in the education sector and would be keen to work with both private and government sector authorities. We are bringing the world's best and the only full stack assessment platform to Sri Lanka at an affordable price point and confident that our collaborators will adopt the smart technology for their benefits." Director in charge of Asia Pacific Srijith said: "We are committed to give the best to our neighbour and friendly nation of Sri Lanka with whom we share social and cultural affinity. We are very committed to make this partnership work by deploying our full stack product in the Sri Lankan market."

The product is meant to deliver services anywhere, anytime and on-the-go with rich feature like cross platform support like windows, iOS and Android operating system besides providing mobile app support for the users and administrators.

Mindlogicx is a global technology product development company in 'knowledge engineering' that offers best of its class technology products and solutions for capturing, processing, managing, and delivering the knowledge resources to the users. The technology addresses the challenges related to assessment management, reskilling and upskilling of graduates and professionals and virtual education delivery ecosystem that can empower a knowledge society in a world of limitless learning.

The technology service delivery of the product offerings are powered by the AI enabled technology platform known as VEDAS (Virtual Education Delivery and Assessment System). Mindlogicx has a presence in Bangalore, Dublin, Singapore, Dubai and New Jersey.

Some of the product offerings powered by VEDAS include IntelliEXAMS – Integrated Assessment Management Platform. It is an assessment management software that offers first of its kind global solution for clients globally covering all types of 'learning and assessments' framework. The software handles QP authoring, secured QP delivery, and onscreen marking of handwritten digitised answer scripts, online assessments, and assignments. The technological suite comes with option for live proctoring to address issues like test dishonesty and anonymity.

The software seamlessly transitions between Windows, IOS and Android platforms and supports Apple classroom and Google classroom ecosystem. The assessment services are also available through an intuitive mobile app. The product has the following credentials as of March 2020: serviced over six million users delivered securely 45 million question papers and enabled onscreen marking of more than 70 million answer scripts.

The GradFIRST – Comprehensive Skill Development Platform, a skill development platform, incorporates course creation, management, and delivery of knowledge resources for reskilling and upskilling of graduates and professionals. Jobready4u is a service extension of GradFIRST whereby the profile of the students' reskilled and upskilled will be made available to potential employers. The portal allows the employers to choose the right candidates for employment based on their learning outcome. Its service portfolio bridges the gap between students and the relevant industry to address the challenges of unemployment and underemployment.

VedasLIVE – On-demand virtual learning platform is an on-demand virtual learning platform providing users with the comfort of learning under anywhere, anytime pedagogy. It provides learning path to individual users in order to track performance metrics and position themselves against rest of the user community. The user has the facility to connect with peers thereby creating a unified virtual classroom for self-paced learning with live lecture, in class experience and online polling. The technology platform provides the client to manage the complete life cycle of the e-learning process – right from admission to awarding the degree.

The technology offerings from Mindlogicx are premium and state-of-the-art and it offers 'Experience-as-a-Service,' thereby giving the users a sense of pride.

Mindlogicx has been recognised and awarded the CEO Magazine – EdTech Brand of the year 2019, Red Herring Asia 100 Winner Y2016, recipient of Best Solution of the Year Award at Indian ISV Awards 2016 from itVARnews, recipient of National Education Award presented at the 2nd National Karnataka Education Summit and Awards Y2016, NASSCOM Emerge 50, Y2015 Winner and recipient of eINDIA Summit Award as the Smart Solution Provider of the Year 2015.

Global Delivery Model, one world, one product, one experience: No great technology can thrive unless it connects seamlessly with the users as part and parcel of the ecosystem. Keeping that in mind, the product offerings of Mindlogicx has been made available both as on premises model and on cloud.

The innovative technology delivery model known as Global Delivery Model (GDM) gives wonderful end user experience by seamlessly delivering the technology through web interfaces, mobile apps and on cross platforms such as Windows, iOS and Android based operating systems, coupled with interactive dashboards and localisation support thus delivering 'Experience as a Service' to customers.