Principal of Royal College, Treasurer of the Royal College Union, Chairman and esteemed partners and sponsors of EDEX 2020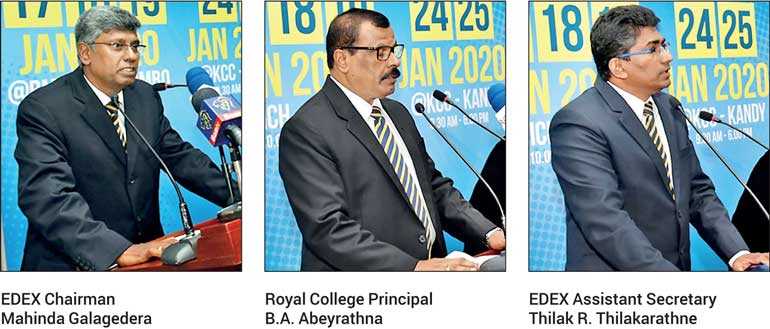 ---
EDEX Expo, Sri Lanka's premier and largest education exhibition and job fair, will once again take centre stage from 17 to 19 January at BMICH Colombo and on 24 and 25 January at KCC Kandy.

Held for the 17th consecutive year, EDEX over the years has become a household name for the youth when deciding their next step in higher education and career choices. Information and Communication Technology, Higher Education, Technology and Innovations Minister Dr. Bandula Gunawardana will ceremoniously declare open the Colombo event as the Chief Guest. The Kandy event will be ceremoniously declared open by Central Province Governor Lalith U. Gamage on 24 January at 8.30 a.m.

Originated in 2004, the EDEX Expo has transformed from being a school career fair to becoming a renowned global name in the education sector, which has continued to empower Sri Lankan youth to be globally competitive and reach towards the pinnacle of achievements.
EDEX Expo 2020 will encompass a platform of local and global convergence of key post-secondary educational stakeholders, comprising of over 200 education exhibition booths, representing local and foreign universities and institutes from over 20 countries.

International presence will be enhanced with the participation of number of reputed country pavilions from Japan, France, India, Australia and Pakistan. Direct or local representatives from leading universities in UK, Russia, Canada and Switzerland will enhance the value of the Expo further.

The Expo will continue to also feature the Job Fair, Career Guidance Centre, Entrepreneur Zone, as well as give host to its community based projects under the banners of EDEX Nenepahana, EDEX Sithuwam and EDEX Think Green.

EDEX Job Fair, which creates a conduit between job providers and seekers will comprise stalls of reputed and leading corporates representing many important segments in the economy. This year, in order to expand the reach it has been scheduled to be held in Kandy for the first time and job seekers are invited to upload their CVs to edexcareers.lk.

The Psychometric Testing Centre, in collaboration with the National Career Guidance Association (NCGA) will provide the youth yeoman service in guiding them on the right career paths.

The above event had been endorsed by the Prime Minister's Office, Ministry of Education, Ministry of Sports and Youth Affairs, Ministry of Information and Communication Technology, Ministry of Higher Education Technology and Innovation, Ministry of Foreign Affairs, Ministry of Skills Development, Employment and Labour Relations, Ministry of Mahaweli, Agriculture, Irrigation and Rural Development and International Labour Organisation (ILO). The strategic partners of the event are The Ceylon Chamber of Commerce (CCC) and Employers Federation of Ceylon (EFC).

The event's esteemed sponsor in the Platinum Plus category for the second time is Sri Lanka Technological Campus (SLTC) while coming onboard as Platinum Sponsor is CINEC Campus. Gold Sponsors of the Expo are American Education Center Ltd., National School of Business Management, Nawaloka College of Higher Studies, Saegis Campus, Java Institute for Advanced Technology, Australian College of Business & Technology and IMC AIC Study Center.

Job Fair Principal Sponsor will be Unilever Sri Lanka Ltd. The Digital Media Partner ATOM Media Ltd., Telecommunication Partner Sri Lanka Telecom PLC, Official Payment Partner LB Finance PLC and the Official Courier is IML Ltd.

The exhibition will be open to the public free of charge from 10 a.m. to 6.30 p.m. from 17 to 19 January in Colombo and from 9.30 a.m. to 6 p.m. on 24 and 25 January in Kandy. For those who are interested in visiting the exhibition can pre-register to the event on www.edex.lk/register for convenient entry.