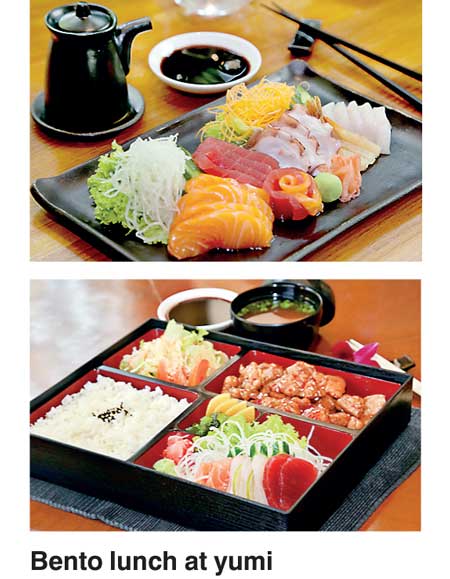 Taj Samudra Colombo's hip and happening Japanese Resto bar, YUMI presents a new range of authentic Japanese cuisine, offering a greater variety of dishes and regional specialties.

Within a short duration the modern, architecturally upbeat resto bar has gained a reputation for its gastronomic delicacies and lively ambience. Connoisseurs of Japanese gourmand patronise YUMI, which provides a rejuvenation of the body, mind, and soul.

YUMI opens its doors to resplendent seating arrangements with the option of alfresco dining. Complete with appearance of sleek polished tables and plush orange chairs around the opulent hallways and high ceiling, Yumi is host to a flair bartender and DJ music in the evenings. Indulge yourself in the exuberance of the moment, through the delectable offerings of Sous Chef Sudesh Janaka, who has specialised in the artistic epicurean delights of Japanese cuisine.

Japanese cuisine encompasses the regional and traditional foods of Japan, which have developed through centuries of social and economic changes. Japanese cuisine, particularly sushi, has become popular throughout the world.

Japanese cuisine is an art form which takes years to master and the experienced Chef Sudesh creates some of the most popular Japanese gastronomic delicacies to tantalise the taste buds. Japanese gourmet is an art form as chefs display a variety of skills and techniques which typically follow the preparation of meals. Great care is given to the ingredients which are imported as it balances the taste, texture, appearance, and colours of food. Only fresh seasonal ingredients are used and are prepared in ways that aim to enhance boost the flavour.

Dishes are carefully presented on plates that are chosen to enhance both the appearance and the seasonal theme of the meal and are beautifully arranged and garnished for ultimate satisfaction. The preparation of Japanese food requires a great deal of expertise and skill which takes patient application and the Chef Sudesh does justice to each meal. His signature dish, 'Volcano Maki', is an appetising explosion of seafood that is bound to create a sensorial appeal.

'Sake the drink of the gods! Japanese rice wine has played a vital role in Japanese culture for 2,000 years and YUMI serves some of the best selection of sakes,' reads the inscription on the menu. The teppanyaki counter serves the grilled dishes Australian tenderloin steak, wagyu sirloin steak, salmon steak etc. The Bento boxes are collection of set menus served during lunch are popular amongst many patrons, in addition to the traditional dishes consisting of maki, temaki, nigiri, sashimi, sushi, teppanyaki, soups and much more. The YUMI bar features an enviable selection of signature cocktails, health combinations and other beverages.

Creativity plays a key role in preparing a dish which would have the desired effect among the guests and the menu at YUMI is designed to exceed their expectations.