Arafath hoists his Championship Trophy
From left: Arafath Mackeen (Champion – 2015), Pradeep Suranga, Amith Krishantha (2nd Runner Up – 2014), Isuru Dilisa (Champion – 2014)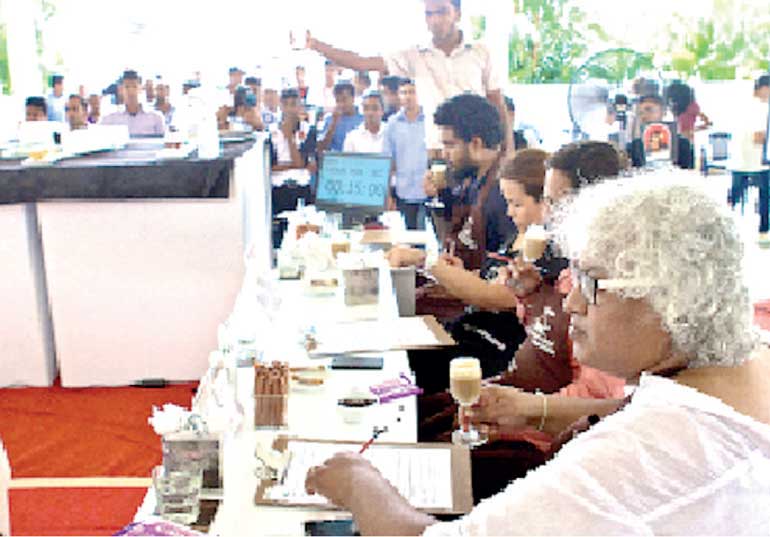 Four judges test the final output of the coffee beverages
A thin, bespectacled barista hoisted a massive award into the sky and yelled in triumph. It was 23 May. The barista was ArafathMackeen, a 25-year old Sri Lankan coffee artist. He'd just won the Oscar of Sri Lankan coffee making – the National Barista Championship.


Arafath was there representing Coco Veranda, the chic coffeehouse at 32, Ward Place, Colombo. Around Arafath – beaming with pride, joy, and in some cases, envy – were his colleagues, his peers, and his competitors. He had just faced off against some of Colombo's finest coffee stops – Barista, ShazéCafé,Délifrance, The Commons, Heritance Ahungalla – and he had won.

For those not in the know, the Barista Championship is the coffeemakers' equivalent of a wild western shootout. Sri Lanka's version of it is demanding: organised by Hotel Show Colombo Chairman and co-Chairman Trevine Gomez and Niroshan De Silva, along with Ceylon Hotel School Graduates Association (CHSGA) President EksathWijeratne; it prides itself on how rigorously it follows the US-based World Barista Championship standards. Participants are tested on how good their coffee is and how fast they make it; even the simple action of pulling a shot of espresso from the highly complex coffee machine has its own arcane minutae.

Arafath is not new to this. He'd participated once before, experiencing a staggering defeat last year – along with the rest of the participants – at the uncompromising hands of Isuru, Coco Veranda's young coffee prodigy, also christened as Sri Lanka's first-ever Barista Champion. This year, spurred on by young Isuru and Amith, Coco's Head of Operations and coffee guru, he decided to take another shot at the title.


"Honestly, I did not expect to win," he said when pressed. "This competition is tough. Niroshan strives to keep it that way. There were seven judges. Four of them, which included Chef Koluu, measured the final product; they would take a sip and even test the coffee later to see if it kept its flavour. Three of them judged the technique; starting from us calibrating the coffee machine to drawing the final coffee shot and everything else in between.


"We had to first make four shots of espresso, as perfect as it should be; then four shots of cappuccino; and finally, four of what they called the innovative drink – our own signature recipes. Last year Isuru came up with a great recipe – a half and half coffee where the bottom was cold, sweet and black and the top was warm and spicy. "Of course, I had to come up with something even better. They said I finished the entire challenge in little over 14 minutes."


Arafath put together a custom recipe involving, among other things, bee honey from Mahiyanganaya, cured with cinnamon for three months. Behind the counter, he spent months experimenting and fine-tuning its taste. The final output produced had to be so finely calibrated that he needed a syringe to measure out the precise ratio of honey to the Filicori coffee; the surprised competitors, wondering if he'd donned the mad scientist's hat, began cheering him on as well at this stage. He finished by flavouring it with cinnamon and chilli powder to balance the sweetness of the seasoned honey.

"The competition this year was intense," confirmed Amith Krishantha, the dapper barista who had trained both Arafath and Isuru, and had been keeping a keen eye on the competition while Arafath and later, his colleague Pradeep, took to the stage.

Amith handles much of Coco Veranda's coffee and customer service operations, including training staff and pushing them to experiment and create new products. "I had picked out a couple of good competitors – Christina from Café Shazé, Sanjeewan from Barista, and of course, Pradeep Suranga from Coco Veranda itself. The judges were also very tough: we were told two of them had flown in from America just for this."


Much of the credit goes to the grand maestro, Niroshan de Silva, and his team. Coffee artists regard him as a kingmaker of sorts, among other things. His endorsement carried a great deal of weight – especially in a small community like Sri Lanka.

The contestants had to present one by one. "Needless to say, I was terrified going up to the stage," said Arafath. "I was so excited; I was so nervous. I knew relaxing myself was as important as setting up. I was trembling as it started, and then I got myself into the zone. I continued with the espressos, cappuccinos and so on, presenting and finishing everything with time to spare. Everyone was cheering me on: our staff, our customers, our directors and even some of the competitors."

"I saw the technical judges' faces in the reflection in the coffee machine and I thought, 'well, I'm probably doing the right thing here'. Afterwards, though, when we all went to the stage, I was hiding. Someone came and told me not to hide, but to go to the front. That's when I knew for sure that I had some place in the awards. After winning the championship, it felt like winning the WBC itself – I cried."


Isuru, the young barista responsible for much of Coco Veranda's famous coffee art, was watching. "His win points were the technique, the tamping, and the near-perfect espresso shot; the real magic was his custom recipe," he said. "Apparently the idea for seasoning the bee honey came to him when he was exploring syrups and decided kithul was too artificial. All of us at Coco Veranda are incredibly proud of him."


"I find it amazing to see this level of inspiration and innovation," said Coco Veranda Head of Marketing Ragulan Ketheeswaran. "Of course, this happens pretty much all the time behind our counters. Our guys are always experimenting. Even better was the level of support shown to us by our customers. We had so many people who, the moment they heard of this, came in, watched Arafath and the others rehearse, commented on the quality of the beverages, their presentation skills and helped us get as close to perfection as we possibly could. It was incredible. Everyone pulled together beautifully – our customers, the staff, management, everyone."