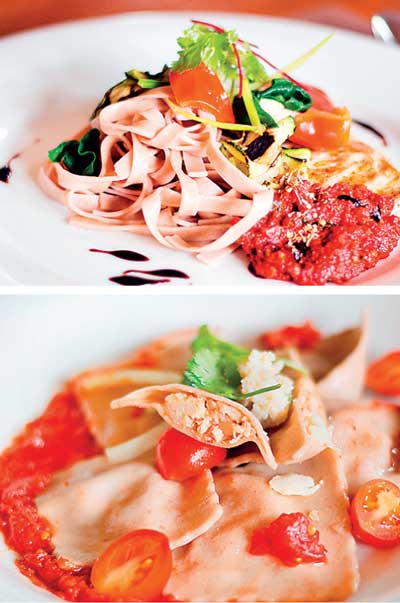 The Bayleaf, Colombo's finest Italian restaurant offers gluten free pasta specials in its menu. Taking into consideration that more and more people are conscious of their health and diets and others are gluten intolerant, The Bayleaf Exec Chef Saroj has introduced gluten free pasta dishes for all to enjoy their favourite pasta. There are many health benefits with gluten free pasta which is low in fat and sodium.

The menu offers a choice of Ravioli di Granchio stuffed with crab meat and served with spicy pomodoro sauce, Tagliatelle pesto gamberetti con Florentine- tossed with pesto, prawns and spinach,Tagliatelle con spade e marinara, with sword fish and seafood sauce and Tagliatelle con pollo Pizzaiolo Pasta served with grilled chicken breast, red peppers, mushroom, oregano and tomato.

Maintaining the flavour the homemade fresh gluten free pasta can be enjoyed at The Bayleaf – Colombo's finest Italian restaurant.

The Bayleaf also offers a special Happy Hour at the Bar with a 'Buy one and enjoy one free' offer on selected beverages from 5 p.m. to 8 p.m. daily.

Log onto: www.bayleafcolombo.com for more information.