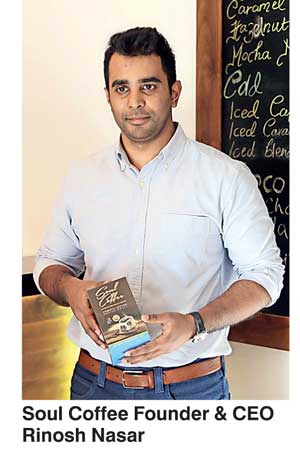 Soul Coffee, Sri Lanka's premier handcrafted coffee supplier, recently introduced their latest innovation, coffee bags, to the country. The first product of its kind in the market, the specially designed coffee bags conveniently brew in the cup with no residue or clean up needed afterwards. Soul Coffee Bags are for lovers of fresh, flavourful coffee looking for the convenience of brewing coffee anywhere, anytime.

Soul Coffee Bags use ground Arabica beans grown in the highlands of Sri Lanka for a velvety smooth coffee with faint notes of almond, individually wrapped for a rich, flavourful taste and floral aroma. Each coffee bag contains 100% freshly ground coffee which need only be placed in a cup and boiling water added to it, for it to brew a richly aromatic cup of coffee with a fully developed flavour profile.

"There is a very obvious need in the local market for a product like this," noted Founder and CEO Rinosh Nasar. "If you want good fresh coffee you need to either buy your own coffee machine or spend some time to prepare and filter the coffee. Soul Coffee Bags are for our customers who want great, fresh coffee fast. It's very easy to make and you can use them anywhere – at home, at work and even while travelling."

Soul Coffee entered the market in 2014 with the promise of providing handcrafted coffee sustainably sourced from the highlands of Sri Lanka. In starting this endeavour Rinosh was influenced by his childhood, having grown up drinking coffee plucked from the garden of his family home, and the start-up culture he experienced during his travels. The ethically conscious brand sources coffee beans from dedicated smallholder farmers in Kandy, Bandarawela, Haputale and other hill country regions, which they package and deliver to hotels, cafes and retail outlets across the island within 48 hours of roasting to ensure integrity of flavour. In this way, the 200-year legacy of Ceylon Coffee lives on with Soul Coffee's choice selection of Arabica Beans, available as Smooth Ceylon, Indulgence, Intense Espresso and now as Soul Coffee Bags.

"I think everyone should be able to enjoy a cup of good quality coffee no matter where they are," said Rinosh. "Starting Soul Coffee was a way to make this possible. Soul Coffee Bags are taking things a step further in terms of convenience. The coffee is still delicious but now it's also available in a single serve package, similar to a tea bag that you can take with you anywhere and allows you to brew a good cup of coffee immediately with no hassle."

Soul Coffee Bags are packed in boxes containing 18 bags of medium roast coffee and are available via the brand's website at www.soulcoffee.lk. Soul Coffee is also available at ODEL outlets, select Keells Super outlets, Good Market Shop at Lakpahana, Cakery Café, Café Kumbuk, Coffee & Company, and other leading cafes across the island.