As the sun sets, begin a feast on lavish Ifthar delights at the Ramada Colombo. Embark on a culinary adventure with a history spanning the ancient palaces of the Middle East to cuisine drawing inspiration from Turkey, the Mediterranean and even North Africa.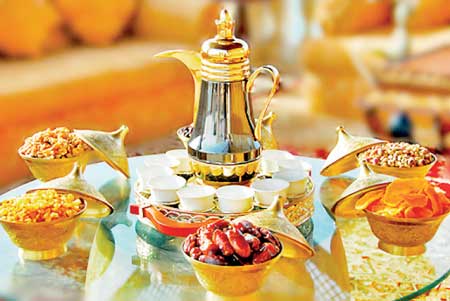 With a choice of an extensive buffet spread at the Gardenia Coffeeshop, a swiftly served snack menu at Baked and the Liberty Ballroom to host guests for a grand Ifthar, the Ramada Colombo gives guests fabulous options.

At the Gardenia Coffeeshop, begin break-fast with refreshingly succulent dates and choose from a range of yummy juices including sticky-sweet faluda. Move on to a snack of crispy hot samosas in a choice of minced chicken or beef and then set eyes on what awaits - a buffet feast to truly thrill.

The dishes of this buffet at the Gardenia Coffeeshop are as varied as their rich culinary heritage. Breads are numerous and assorted - pita bread the most popular of all is soft and pliable, making it ideal to scoop up a range of dips from hummus to delicious baba ganoush of roasted eggplant. Saudi Arabian kabsa rice with assorted nuts, Mediterranean mutton couscous and chicken shawarma or cheese kurkure off the action station all await to be devoured.

The sweet delights on offer are a statement on their own! The Baklava with its delightfully rich flavour deserves a special mention whilst the awameh, a popular Syrian sweet, leaves a lingering flavor of cinnamon. The assorted Lebanese sweets give more of the best treats that appear only during this time of the year.

Baked, the new patisserie swiftly serves up a snack menu making it the perfect place to break-fast after work. Succulent aduku roti in a choice of mutton and chicken, samosas, kanji and refreshing drinks are all part of the offerings here.

For those who fancy hosting their loved ones or work mates for a grand Ifthar during this very special season, the Liberty Ballroom is the perfect option for a most memorable event.

The extensive buffet at the Gardenia Coffee Shop is priced at Rs. 2,100 nett per person. Call 2422001 for reservations and enjoy these great flavours that make their appearance during this holy month.