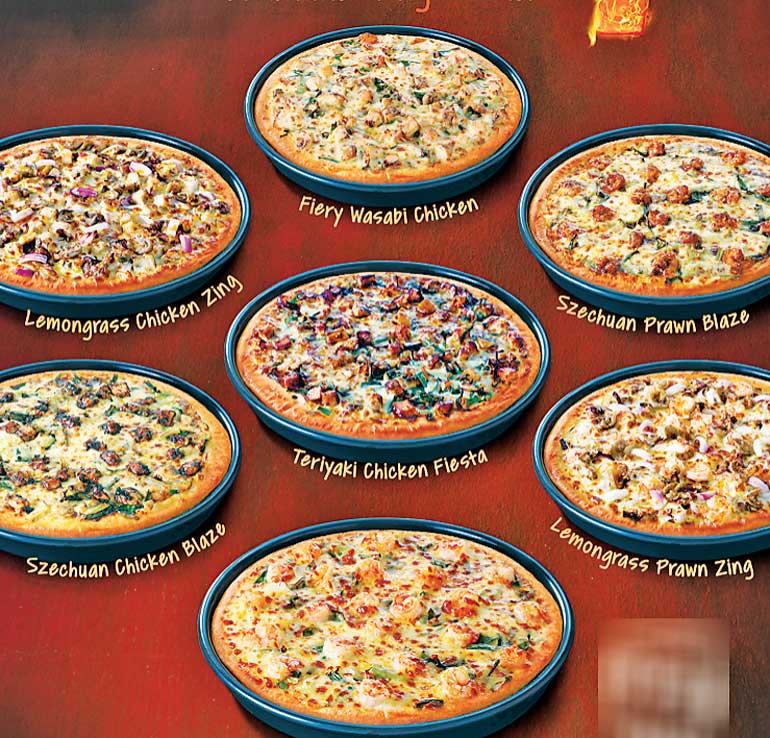 Once again Pizza Hut Sri Lanka launches a brand new enticing range of pizzas for Sri Lankans to relish. Introducing The Magnificent Seven, a mystical mouth-watering new range of delicious pizzas from Pizza Hut Sri Lanka; with seven new glorious pizzas of exotic taste, Pizza Hut opens up a novel experience for foodies and casual diners alike. "Originality is something we here at Pizza Hut Sri Lanka strive for. We work hard to give our customers innovative culinary experiences. Hence our new range of delightful pizzas, offering a variety of delicious toppings, whatever their tastes may be," said Gamma Pizzakraft Lanka Ltd. Director Marketing Sharmila Arasaratnam.

Available for a limited time only, this latest range features delicious flavours, blended and baked together with your favourite pizza – from Japan, Teriyaki Chicken Fiesta, Fiery Wasabi Chicken and Fiery Wasabi Prawn; from Thailand, Lemongrass Chicken Zing, and Lemongrass Prawn Zing; and finally, from China, Szechuan Chicken Blaze and Szechuan Prawn Blaze. Imagine delicious flavours such as Teriyaki Chicken and Lemongrass Prawn on freshly baked pizza bread, coming together along with your veggies and cheese.

"It's always exciting to launch a new range of pizzas. This is especially true of this exact situation, where we are bringing in a unique blend of our fantastic pizza with seven exotic flavours from the orient, flavours that are widely popular. You never tire of witnessing a reaction of absolute pleasure as you see friends and family dig into an all-new flavour for the first time. And that is pretty much our goal here at Pizza Hut Sri Lanka, offering new and exciting experiences for our customers," said Gamma Pizzakraft Lanka Ltd. CEO Yasa Nadaraja. For many years, Pizza Hut Sri Lanka is a name that has been associated with the highest quality of food, time and time again. And once more, just as Pizza Hut Sri Lanka intended, the people have a new experience waiting for them.

Visit Pizza Hut, call 2 729 729 or simply order online on www.pizzahut.lk or through the online ordering apps to experience the mystical flavours of the Magnificent 7!