ON14 is the hottest rooftop bar and lounge, known to be one of the friendliest networking places in the city. Located on the 14th floor of OZO Colombo, ON14 lounge and bar will come alive on 2 October, promising the dreamiest sunset rendezvous to its patrons starting at 7 p.m., with a number of striking offers. The first 50 ladies to arrive will be offered free cocktails as they walk in. This intimate affair with the ocean and the setting sun will be wrapped up by acclaimed DJ Nick, as the night lingers with perfect drinks and an esteemed crowd to uplift the spirits.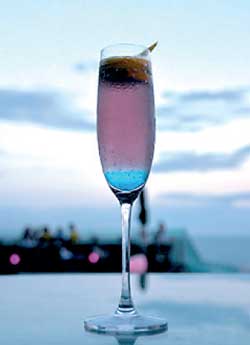 Not to worry about the dress or colours to wear, guests can walk in their favourite outfit to match the soothing environment. "We are very relaxed, so you definitely don't need a tie," says OZO Colombo Operations Director Roshan Adhihetty. "Come enjoy a range of innovative cocktails created by our world-class mixologists. You don't have to pretend. We have got the best of Pink & Blue Paradise, Chance Meeting Margaritas, Adam and Eve or even ON14 Love Potions Shooters, settling you to a perfect evening."

Just walk right in, get started with a cocktail if you want, and begin chatting with the hundreds of friendly people. What better way to expand your network than by bringing a friend along with you? Bring your crush or even your partner. There are no restrictions.

We let you celebrate, watch the sunset and rendezvous with ON14. The place has a rich history of fame and glamour, with a unique style of hosting celebrities you wish to meet. From the 14th floor of OZO Colombo overlooking the Indian Ocean and Colombo City, ON14 invites you to a unique sunset rendezvous with cherished memories.

For more information please contact OZO Colombo at 011 2595734 or visit www.facebook.com/on14rooftopbarlounge.