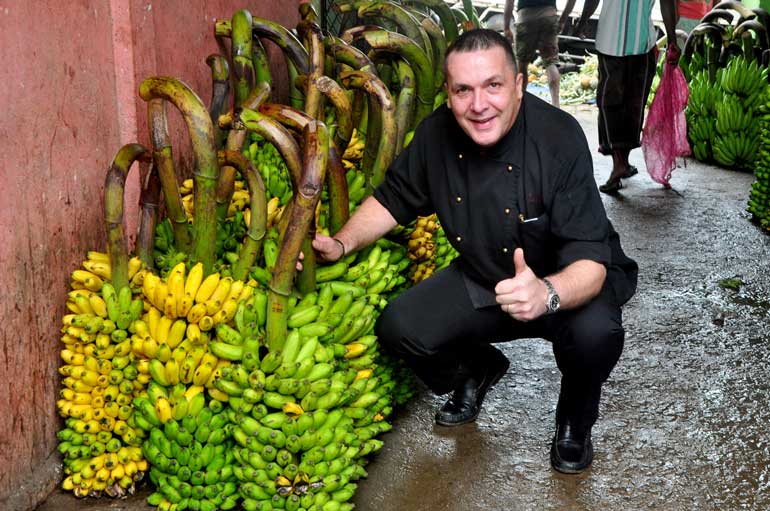 Chef Dirk at the Manning Market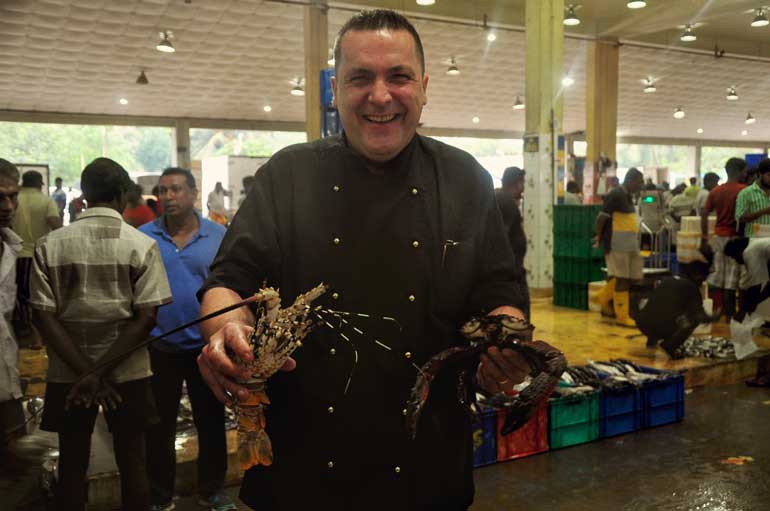 Chef Dirk happy with his crab and lobster picks at the Peliyagoda Fish Market
Just four months into his role as Executive Chef, Dirk Heinen has already spiced up the flavours emanating from the kitchens of Cinnamon Grand. With a new smokehouse from which emerge the aromatic wafts of handcrafted smoked meats to constantly reinventing menus for curated dining experiences, Chef Dirk has been busy.

Having arrived from the luxurious five-star milieu of the JW Marriott Ankara where he was F&B and Executive Culinary Director spearheading Michelin Star and Chaine De Rotisseurs events, for Chef Dirk, Cinnamon Grand is surely the place he has been looking for. "I love the buzz that's always prevalent in this hotel but what really struck me when I visited for a week prior to taking up my position, was that this hotel has a soul. When I first saw it, I made up my mind. This is my place. It's not a new hotel and it's not just a hotel. It has history, it has character, it has a story to tell and it has that unmistakable soul, which makes it very special."

He grew up under the influences of his Butcher father, honing the craft of everything 'meaty', from making specialty sausages to smoking meats. "Growing up in Germany, meats take priority and therefore, handling and producing meat for Germans is a craft in itself. But, my father recognised that I wouldn't be happy simply being a butcher and encouraged me to look outside. I took my first steps into the professional kitchen environment by studying at the Vocational School for Cooks in Wuppertal."

Now holding the titles of Ambassador Kuwait from Cookart and Maitre Rotisseurs from Chaine De Rotisseurs, as well having membership within the World Ambassador Organisation (Cookart) and Cordon Bleu France, Chef Dirk's expansive knowledge spans a few continents. He brings with him experience from the hospitality capital of the world Switzerland and from Taiwan, Turkey, Kenya, Spain, Egypt, Germany, Russia, Seychelles, Kuwait and Sri Lanka too when he came to the country on a task force assignment during his time as Executive Sous Chef at the Robinson Company.

His biggest challenge sometimes he confesses has been in manpower management. At the Sheraton Kuwait Luxury Collection and Sheraton Kuwait Four Points where he was Culinary Director, he managed a total of 197 in the kitchen brigade and 70 stewards, 85 in the kitchen and 32 stewards at the Sonesta Beach Resort and Casino in Egypt as Executive Consultant Chef, 130 at the Club Lykia World Turkey as Executive Chef, over a hundred as Executive Chef at the Sheraton Nevskij Palace Hotel in St. Petersburg and comparable numbers at the Sheraton Sharm Hotel, Resort & Villas in Egypt and Rixos Premium Gocek Suites and Villas in Turkey in a similar capacity.

At JW Marriott in Ankara he managed nearly 200. "Having my international kitchen brigade here at Cinnamon Grand is exciting because I've got among our team, chefs from Italy, Korea, India, Taiwan and Philippines, in addition to a very dedicated team of Sri Lankans. This internationality is what brings the team together to produce the culinary masterpieces that we do."

A qualified human resource practitioner given his BTEC Advanced Professional degree, in addition to a Chef Master Degree from Industrie und Handelskammer Nurnberg, his training and learning competencies are also extensive. He has gained specialty training in HR, leadership, accounting and finance, marketing, engineering, standards and of course everything to do with F&B in Cairo, Amman, Brussels, Doha and Kuwait. This is in addition to having served in the German Reserve Military for one year.

Fluent in both German and English with a fair knowledge of Turkish given that he calls Turkey his home and intends settling there one day with his wife Flavie and twin daughters Lisa and Jana; since coming to Cinnamon Grand, Chef Dirk has been in the throes of building a solid structure within his purview and introducing culinary transformations. "I'm also excited about the John Keells new project, the Waterfront. But it is about us creating the standards and benchmarks here at Cinnamon Grand."

This augurs well with his passion for creating innovative things with food. "My field is wide. I could be butchering or making sausages and ham or preparing Michelin Star cuisine." The new smokehouse at Cinnamon Grand therefore is the result of this passion, where using the knowledge of his friend a German Master Butcher, Chef Dirk now produces a range of smoked meats and cold cuts, without purchasing anything from outside." Enjoying the sights and sounds of Sri Lanka's fruit, vegetable and fish markets, he uses these as the inspiration for his epicurean works of art.

He was also keenly looking forward to the Christmas season which had all these new ideas converging into special menus for all the outlets and of course, his most exciting venture, The Christmas Market. "This is the first time such a market was held in Sri Lanka. It was conceptualised on the lines of the European Christmas Markets and had an expansive range of food, beverage and Christmas items from Europe including specialty smoked items."

And as this outdoor loving chef, who enjoys fishing, hunting, trekking, sailing and scuba diving readies his team for the blitz of gastronomic delights he intends showcasing, Cinnamon Grand is agog with curated culinary experiences that will unfold in the months to come.

To find out more on what is on offer, follow Cinnamon Grand Facebook page on www.facebook.com/CinnamonGrandC.