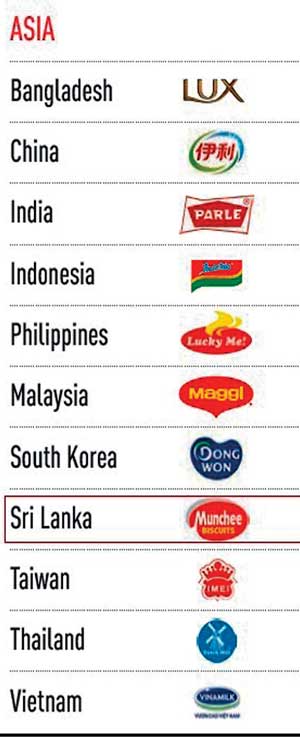 Sri Lanka's leading biscuit brand Munchee has been adjudged 'Sri Lanka's Number One FMCG Brand' by the Brand Footprint Report, a global study of winning brands in the FMCG space conducted by Kantar Worldpanel.

This global ranking reveals the strength of brands in 44 countries around the world, across the Food, Beverage, Health and Beauty and Home Care sectors. Every year, Kantar Worldpanel conducts the most exhaustive study of FMCG brands across the globe.

This year's study is the biggest yet – commanding a larger global footprint than ever before adding Sri Lanka for the first time and covering 15,000 brands, 200 categories, 44 countries and five continents, representing 74% of the global population. The flagship brand of Ceylon Biscuits Ltd. (CBL), Munchee is consistently rated number one for its quality consciousness and innovation, resulting in the brand becoming the leader in the FMCG market in Sri Lanka.

Ceylon Biscuits Group Director/Head of Marketing and Sales Nandana Wickramage said: "This prestigious ranking as Number One brand in Sri Lanka is a culmination of our commitment to deliver nothing but the best quality products to its customers. The brand has retained high visibility due to its 'out of the box' innovative products that have consumers enraptured. As a home-grown, much loved leading brand, Munchee has achieved not only product and process excellence but also brand marketing excellence, closely engaging consumers across a variety of sustainable parameters."

The parent company of Munchee, Ceylon Biscuits is one of the fastest growing and largest conglomerates in Sri Lanka that manufactures and markets many leading brands in biscuits, confectionery, cereal, organic fruit products and many other categories globally.

Recognised as a technology and innovation-led producer, CBL caters to a large overseas market and has a global presence across all continents. Today, Munchee is led by a vision to become leader in confectionary in South Asia with a global presence and recognition. Under visionary leadership, the company has aggressively expanded its operation, invested heavily in new plants, factories and technologies, and established a strong sales and distribution network.

The company exports its products to 55 countries. Munchee boasts process quality management systems for which it has received ISO 9001 and ISO 14000 environmental quality standard certifications.