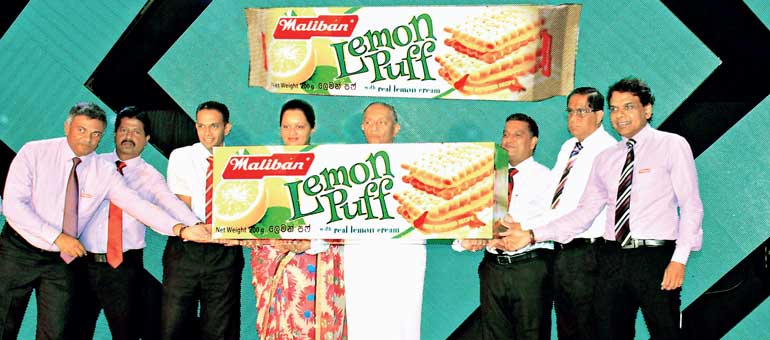 From left: Modern Trade Manager Mahesh Perera, National Sales Manager Kapila Jayasinhe, Director T. Samaraweera, Managing Director Kumudika Fernando, Chairman A.G.R. Samaraweera, Director A. Wickramapala, Group CEO D. L. Weerasuriya and CEO Sales and Marketing Ravi Jayawardana
Maliban Biscuits, Sri Lanka's renowned and most trusted biscuit manufacturer, has announced the re-launch of its classic consumer favourite 'Lemon Puff'.

Famed for its creamy, lemony taste, the new Lemon Puff biscuit will now be available to Sri Lankans in an all new proposition; refined flavour, texture and attractive packaging. In addition to being a crispier bite, Maliban has also enriched its cream recipe making it more palatable and offers a fascinating mouth feel for children and adults alike. Further, the attractively packaged new product, will allow Lemon Puff fans to continue enjoying the biscuit at the same price.

Expressing his thoughts on the initiative, Maliban CEO – Sales and Marketing Ravi Jayawardena said, "We are delighted to announce the re-launch of our flagship product 'Lemon Puff'. Maliban has always been focused on identifying the dynamic consumer trends and taste preferences. This is the reason why we enhanced the overall creamy lemony taste, mouth-watering texture and eye catching packaging to make it truly world class and delight the taste buds of all age categories. This is also why we have partnered with one of UK's leading essence companies to import the best lemon to use in our products. We are convinced that the new Lemon Puff will have great market reception both locally and overseas."

Maliban Lemon Puff's most unique feature is the use of natural lemon oil in its biscuits. This has made the brand one of the safest and most popular in the Sri Lankan market for over 40 years.

Also speaking on the occasion, Maliban Category Manager Samantha Pushpakumara said: "Maliban is one of the most loved brands among Sri Lankan youth and has experienced tremendous growth over the past few years. We carry out continuous engagements with our consumers to improve our products. Consumers are our motivation to drive the business and as a result of their request for specific improvements to the biscuit's texture, cream and bite, we have made these advancements."

Further, Maliban Lemon Puff achieved another milestone by being recognised by the prestigious Two Star Certification from the International Taste and Quality Institute, Belgium.

The Superior Taste Award is a unique international recognition that is focused on the blind judgment of Chefs and Sommeliers. The jury is comprised World Master Chefs Society (WMCS) and the Association de la Sommellerie International (ASI). Maliban is the only biscuit brand in Sri Lanka to have been awarded such international accolades for taste and quality.

Maliban Biscuit Manufactories has received the ISO 9001, ISO 14001, ISO 22000 and OHSAS 18001 certifications and has also been awarded Sri Lanka's prestigious National Quality Award on multiple occasions for its commitment towards serving safe and tasty biscuits to consumers.

Currently Maliban Biscuits are sold in over 100,000 outlets in Sri Lanka. Maliban's global reach spreads to more than 35 countries across five continents.