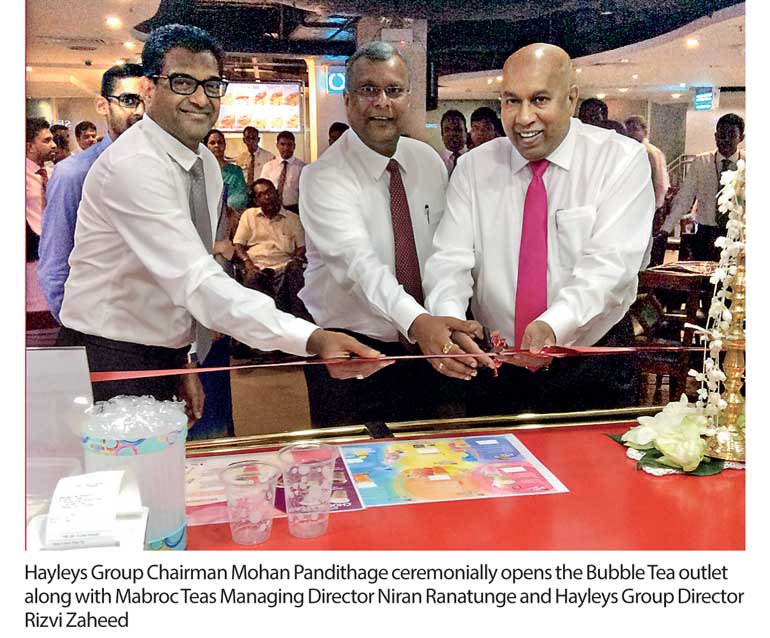 Following the launch of its flagship store in August 2016, Mabroc Bubble Tea continues to expand its unique Ceylonese Bubble Tea beverages within greater Colombo. The company launched its third outlet located at Crescat Boulevard, recently. The new outlet was ceremoniously declared open by Hayleys PLC Chairman and Chief Executive Mohan Pandithage.

The opening showcased a colourful display of Bubble Tea Beverages including special tiered beverages in mango and faluda flavours designed for the season of Ramazan; and a new Premium Chocolate Menu collaborating chocolate with hazelnut, chocolate with strawberry and chocolate latte among other top sellers of the range.

Mabroc Bubble Tea currently operates its vibrant and youthful outlets in prime city locations such as Liberty Plaza and Odel Promenade and is now available at Crescat Boulevard. Since its recent inception, Mabroc Bubble Tea has delivered an ever-evolving range of unique and innovative beverages rich in Premium Ceylon Tea. The MBT Menu features Bubble Classics, Bubble Fruiteas, Bubble Shakes, Bubble Snow, Bubble Cubs and Bubble Herbyz. Bubble Fruiteas include signature flavours such as Strawberry Berry Tea, Passion fruit with Blueberry White Tea and Naarang with Lychee Black Tea. Bubble Cubs features animated beverages such as Blue Coral Bubble Tea with Dolphin Jelly and Lychee White Tea with Rainbow jelly. Bubble Herbyz are infusions of herbal Tea with varieties such as Cinnmon Green Tea and Peppermint with Ginger Green Tea ideal for that weekly detox your body needs. Slushies and Milkshakes are prepared with exotic flavours infused with tea, fruit or a milk base and colourful Bubble toppings. True its disruptive nature, Mabroc Bubble Tea has accomplished a new beverage culture amidst the streets of Colombo.