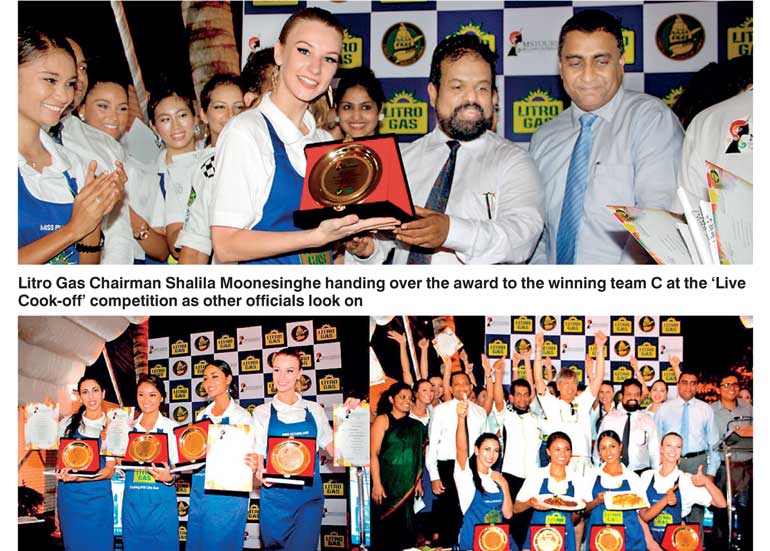 Litro Gas, the largest national importer and market leader of Liquefied Petroleum Gas (LPG) in Sri Lanka, recently organised 'Live Cooking Competition', an exciting, fun-filled cookery competition amongst 20 glamorous participants of Miss Tourism Sri Lanka International, in collaboration with the Chefs Guild of Lanka.

Held on 15 February at the Hilton Colombo, the competition was judged by highly experienced chefs in the country. The pageants were divided into five groups of A, B, C, D and E and were given plenty of ingredients and facilities to make their starters and full course meals a top-notch one, with Litro Gas igniting the spark to create and elevate taste as great chefs deserve great fuel.

Team C consisting of Miss Luxembourg, Miss Malaysia, Miss Netherlands and Miss Philippines emerged champions in the competition. Their spicy chicken was talked about the most including their pasta and salads. All of the beauties representing various nations such as Australia, Belgium, China, Denmark, India, Italy, Japan, Lithuania, Luxembourg, Malaysia, Netherlands, Philippines, Poland, Russian Federation, Singapore, Sri Lanka, Sweden, Thailand, UK and USA didn't just seriously cook but also enjoyed it while doing so, indulging in casual singing and dancing.

"We were delighted to have sponsored and organised the cookery competition for the glamorous ambassadors representing various nationalities. The fun, excitement, and indulgence around the event was mind-blowing putting smiles and laughter among everyone who participated. It was indeed an unforgettable experience cooking with Litro," said Litro Gas Sales and Marketing Director Chaminda Ediriwickrama.

Miss United Kingdom Laura Jayne Gregory said: "We got ourselves into teams of four. We had all the same ingredients as the other groups and we used our imagination to see what sort of dishes we can come up. So each group came up with a different dish. We had some time to plan and write down the methods and also take ideas from each other. Every single ingredient that was on the plate was the real challenge because we were only making a starter and a main course. We had lots of fun working together, team building and getting to know each other a lot better."

"We enjoyed ourselves so much and we became really good friends coming from different nations. We were even happier cooking," said Miss Lithuania, Enrika Trepkutė-Žilinskienė. Miss Netherlands won the Ms. Tourism Sri Lanka International title followed by Miss Malaysia and Miss Lithuania as first and second runner up respectively. The best national costume went to Sri Lanka.

Litro Gas Lanka Ltd. (LGLL) is the leader in marketing and selling LPG in Sri Lanka along with its associate company Litro Gas Terminal Lanka Ltd. The company is the owner of the brand 'Litro Gas' which serves the customers through 5,000 points of sale island-wide. Litro Gas has a reputation for the strict implementation of safety standards and is considered as an important cornerstone in its company strategy.