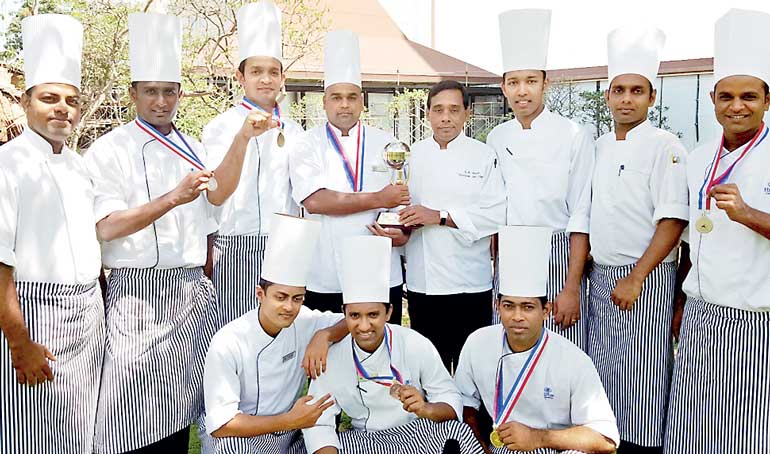 Culinary Art 2015 presented by the Chefs Guild of Lanka is one of the prestigious events in the culinary calendar. Sri Lanka's biggest food and hotel show concluded recently at the BMICH. Hilton Colombo bagged altogether 20 medals and an award for The Most Outstanding Artist (Fruit & Vegetable Carving)

Judges were flown in from around the world to select the winners and the competition was well received by all the hotels that participated in the various categories of culinary art.

The winners: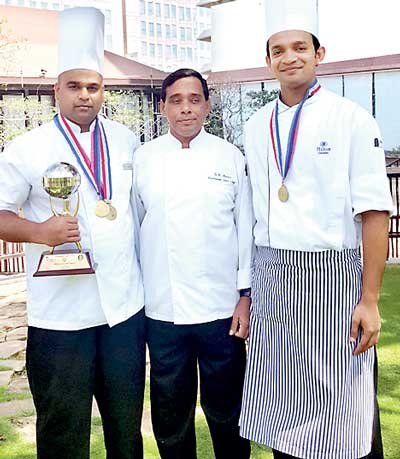 Mohamed Raaji won a Gold for Hot Cooking Live
Champika Rajapaksha won two Golds for Butter Sculpture and Ice Carving, Silver for Artist Showpiece and the Most Outstanding Artist Award for Fruit and Vegetable Carving.
Thushara Sanjaya won a Silver medal for Hot Cooking Live
Charith Madhawa won two Silvers for Plated 5-Course and Plated Appetizer and a Bronze for Hot Cooking Live
Ajith Kumara won Silver for Fruit &Vegetable Carving and a Bronze for Artist Showpiece
S. Sakeesan won a Silver for Vegetarian 3-Course menu
K.P. Yasith won two Bronze medals for Apprentice Hot Cooking Live and Apprentice Dessert Live
K.M. Sunil Nishanka won a Bronze for Sri Lankan 3 course – Live
Roshan Jayakody won a Silver for Dress the Cake Category
Ruchira Siriwardena won two Bronze for Plated Dessert and Petit Fours
D.A. Priyantha won a Bronze for Wedding Cake Structure
S.L. Liyanage won Bronze for Hot and Cold Finger Food and Buffet Platter
The Chefs Guild of Lanka is Sri Lanka's Association of Chefs who are committed towards the professional development of all chefs and cooks in Sri Lanka.