As patron of the elite dining club The Nth Degree, headquartered in London, Niranjan Deva Aditya MEP (Nirj) has always felt particularly blessed. As the only dining club associated with the world's leading chefs, Nirj has had the unique opportunity to mix with and observe the best of the best.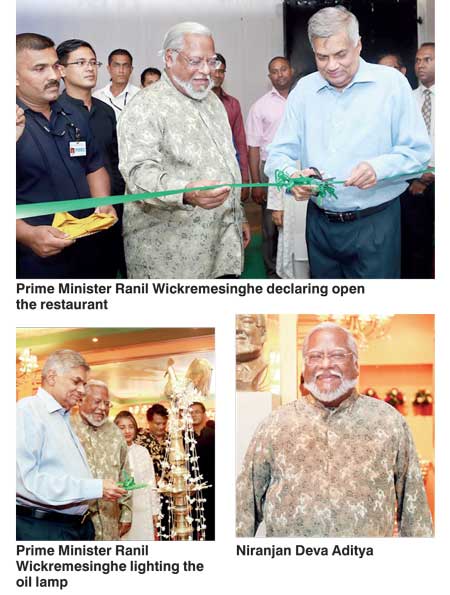 As Nirj explains: "I have always had a passion for food and it is through my association with the Nth Degree and its Chairman Robert Walton MBE, that I have been able to immerse myself in the world of fine dining – to fully experience not only the best the restaurant world has to offer but to also share the experience with top chefs and other food lovers."

Regrettably, this opportunity is not currently available in Nirj's ancestral home, Sri Lanka; "Sri Lanka has an abundance of great produce – richly flavoured and exotic ingredients which are simply crying out for use in the best traditions of the holistic fine dining experience." In this context, Nirj launched 'Grand Gourmet at Nirj's', Sri Lanka's first French fine dining restaurant, which was opened by none other than Prime Minister of Sri Lanka Ranil Wickremesinghe and Prof. Maithree Wickremesinghe.

"Whilst wishing Grande Gourmet and my childhood friend Niranjan every success, I hope this is a harbinger to Sri Lanka being a fine food destination," said the Prime Minister.

The aims of Grand Gourmet at Nirj's are simple – to present fresh, local and seasonal produce in the very best possible light; utilising the traditions of the French fine dining experience. "While our intention with Grand Gourmet at Nirj's is simple, it is also boundless, in the sense that we want to achieve Michelin Star status and put Sri Lanka on the world gourmet map. The finest ingredients are only part of the step – we want to provide an internationally recognised and immersive fine dining experience," said Nirj.

Grand Gourmet at Nirj's will also be innovative and keep itself on the food industry's cutting edge by flying in leading chefs. By introducing 'guest stars' in this way, Grand Gourmet at Nirj's will combine the best produce, service and atmosphere with a firm focus on customer experience and an openness to fresh and unique approaches to traditional French cuisine – setting it apart from anything else Sri Lanka has to offer.

To achieve these goals, no detail has been overlooked, from the intensive training of waiting staff, to wine selection and pairing, to the atmosphere and decor – with an emphasis on the style and elegance of the French romantic period of the 19th century. While Grand Gourmet at Nirj's represents the very best the food world has to offer, the restaurant has a warm, inviting and inclusive atmosphere – positioning it as an elite, but not elitist, restaurant.

"Our firm desire is that Grand Gourmet at Nirj's is open to all who have the means to dine there and experience the very best, not just those from the top echelons of society or politics. We are relentlessly focused on truly welcoming and including the customer, and ensuring that they are given the very best holistic dining experience. We want to share with our guests our passion for food and nourish them in both body and spirit. I think that is the true meaning of fine dining."

Grand Gourmet at Nirj's will be complimented by 'Encore', a sophisticated bistro-style restaurant/bar serving breakfast, lunch and high tea, before offering dinner to its exclusive invitation-only membership. From 7:30 p.m. onwards, Encore aims to provide an enclave for the leading lights of Sri Lankan industry, society and politics. A place where like-minded individuals can network, socialise in a relaxed and inviting atmosphere.

For reservations ring 0773527978 Sheriff or 0777398732 Ajumain; advance bookings are recommended.