Thanks to the innovative 'Easy Cook Convection Oven' you can now satisfy your craving for fried food and enjoy everything you have been longing to indulge in. This innovative appliance not only cooks healthy fat-free food, but also cooks faster and saves time and energy. It also saves space in your kitchen, because it replaces nine items – standard oven, grill, broiler oven, deep fat fryer, convection oven, toaster oven, electric frying pan, rotisserie and electric steamer.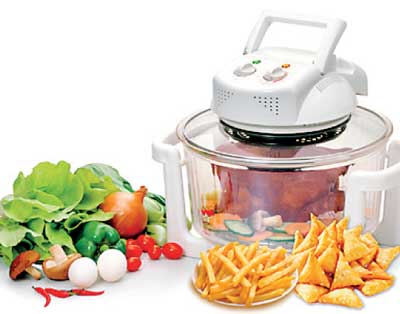 The innovative Easy Cook Convection Oven broils, roasts, bakes, grills, barbecues, boils without water, fries without oil and steams. It cooks with hot air (dry roasting), with the food suspended on a wire rack. As a result, retention of fat is minimised, leading to fewer calories, lower fat and cholesterol and a healthier lifestyle. It is not necessary to add any oil, butter or margarine to most recipes.

With Easy Cook Convection Oven you can prepare delicious, healthy meals without oil, in less than half the time of traditional cooking. By using a fan to accelerate the circulation of the hot air in the oven in a tornado like effect, the cooking time is reduced and the food is cooked evenly, retaining the nutrition and taste of the food. It is made of glass so you can clearly see the food being cooked from all sides.

Cooking on a wire rack allows the hot air to circulate freely around the food, cooking it quickly and evenly without having to physically turn it. By using two levels of racks, it is easy to cook an entire meal at the same time.

As different foods and different weights of foods take different time to cook, you can place the food that takes the longest amount of time to cook on the bottom rack. After some time, you can place the rest of the food on the top rack. This way you can cook your complete meal of meat, potatoes and vegetables together and it will be ready to serve at the same time.

You can cook a chicken or turkey and it'll be ready to eat in half the time! The Easy Cook Convection Oven helps cook your poultry from the inside – giving you tender, moist meat, even if it is stuffed. After the food is cooked you can turn the thermostat down to keep the fan running and your food will stay hot and crisp.

The Easy Cook Convection Oven makes entertaining even easier. Most frozen appetisers can be served within four to eight minutes after removing from the freezer. You can also make your own appetisers and cook them at lightning speed in this appliance.

Another versatile appliance available at Abans is the 'Multi Cooker' which replaces six items and performs over 15 functions in your kitchen! It cooks rice, steams, simmers, slow cooks, stir fries and braises, keeps food warm before serving, deep fries, traditional style pot roast, boils, reheats, sterilises baby bottles etc, warms up food, thaws and poaches.

Visit your nearest Abans showroom to learn more about these versatile, tabletop cooking appliances that save time and energy and are a boon to housewives, working people, and those who are concerned about consuming healthy food and keeping in good health.