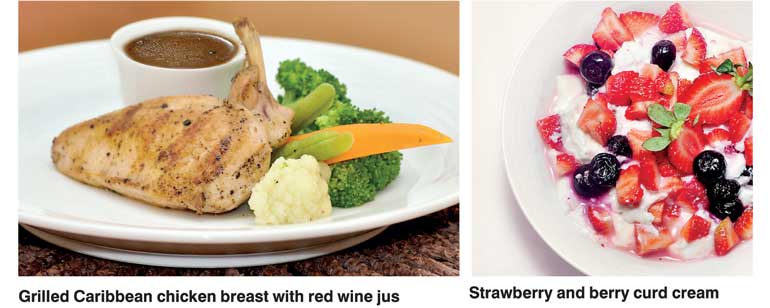 For those constantly on edge over wanting to relish delicious cuisine while trying to maintain a healthy and balanced lifestyle, Cinnamon Grand's Diabetic Menu is the ideal option!

Especially created keeping in mind the rising statistics of those living with diabetics, the menu includes a variety of options including Italian, Indian, seafood, fusion, fine dining and pub grub along with appetisers, soups and dessert. With calories, protein, carbs, fibre, cholesterol and sodium measured and mentioned per dish, the menu is excellent not only for those who have diabetes, but also for the health-conscious.

Some of the speciality dishes from a list of over 30 include, tender spinach and blue cheese salad with crusted walnut salad, melon and cucumber salad from appetiser range, potato and cheddar soup from the soups, baked spinach macaroni with marinara sauce from Italian dishes, paneer bujiya from Indian, steamed orange modha fillet with herbs from seafood, lime and lemongrass marinated grilled lamb chops from fusion, grilled sirloin with red pepper puree from fine dining, grilled Caribbean chicken breast with red wine jus from pub grub.

Given the Sri Lankan affinity to dessert, a delightful selection including chocolate walnut pie, sugar-free chocolate mousse, strawberry and berry curd cream, pineapple fluff have been included in the menu.

Available at all restaurants for lunch and dinner, the menu was first introduced in 2010 coinciding with World Diabetes Day. Compiled under the guidance of dieticians and doctors, the menu enables patrons to enjoy a fulfilling meal while maintaining a normal level of blood sugar in their bodies.

According to International Diabetes Federation (IDF), globally, an estimated 415 million adults were living with diabetes in 2015, compared to 108 million in 1980. This number is expected to increase to around 642 million by 2040, i.e. one in ten adults. This reflects an increase in associated risk factors such as being overweight or obese.

For more information, please call 011 2437437. To find out more on what Cinnamon Grand has to offer, check out their website on www.cinnamongrand.com.