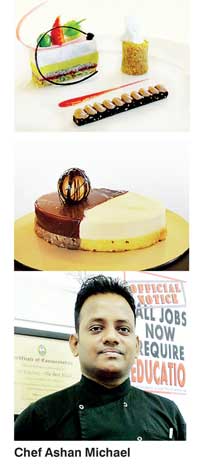 Chefs from The Kingsbury have once again pushed the boundaries and cemented its reputation as the culinary capital of Colombo. The Anchor Pastry Chef Challenge was held on 17 June at The Taj Samudra, Colombo and The Kingsbury contestants Chef Ashan Michael, senior chef de partie and Jeewanthi Dayarathne, first commi -1, were placed joint winners of the Colombo five-star category for best dessert. Contestants were judged by an expert panel from the Chefs Guild of Lanka, including renowned pastry maestro Gerrard Mendis.

The event was organised by the Chefs Guild of Lanka in collaboration with Fonterra Brands Sri Lanka to allow young up and coming pastry chefs to showcase their talents. Winners of the regional competitions get to complete in the grand finale at The Culinary Arts Exhibition.

The Kingsbury is extremely proud to house talent of this calibre and contributions by likes of Chef Michael and the food and beverage department ensures its unshakable reputation in delivering true world class dining experiences to its guest.