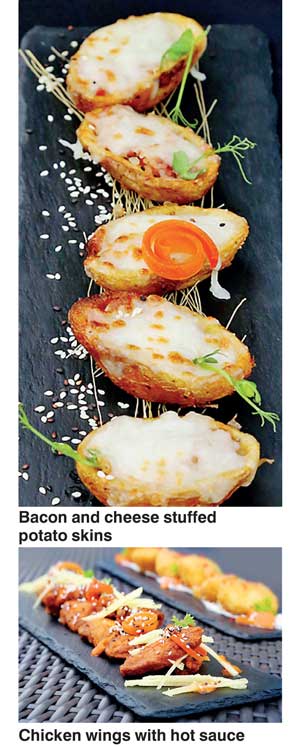 Celebrating Cinnamon Red's second year anniversary, the hotel's popular restaurant cum bar, Cloud Red has amped up the vibe with enhanced music and, food and beverage menus, offering their loyal patrons a truly 'elevate experience'.

Colombo's highest rooftop bar, Cloud Red has made a name for itself for it unique concoctions, innovative tapas and breathtaking views of the city. A far cry from the usual hotel bar, Cloud Red has become a favourite haunt by the city's young and young at heart.

Introducing seven days of music, jazz tunes will be played on Sundays to get you relaxed for the upcoming week. Soft rock on Mondays, indie music on Tuesdays and Latin pop on Wednesdays will be lined up, along with 80s and 90s pop music on Thursdays, house music on Fridays and trance on Saturdays.

Having also revamped their menu, patrons can now enjoy popular dishes from the previous menu as well as a selection of new, innovative bites. Signature dishes from the new additions include the crumb fried egg with stuffed smoked salmon and lamb kieves with mint sauce. Also part of the additions are bacon and cheese stuffed potato skins, chicken wings with hot sauce and a few Indian favourites such as shami kebabs, pakoras and samosas.

There are few better ways to enjoy an evening, than from above, crafted concoctions in hand, gazing across the lights and landmarks that defines the city. Adding more to the mix bag of new surprises, Cloud Red has also introduced several new spirited beverage blends that are sure to lift your spirits.

This trendy rooftop hangout enables guests to while away their evenings either in the open-air outdoor terrace or in a secluded air conditioned indoor space with a dedicated bar. Open from 5 p.m. to midnight daily, and from 3 p.m. on Sundays for the special High Tea at the terrace, Cloud Red is a definite must try, if you haven't already!

For more details, please call 011 2145175.

Check out their Pinterest page pinterest.com/cinnamonredcolo/cloud-red/ for more images of the offerings.