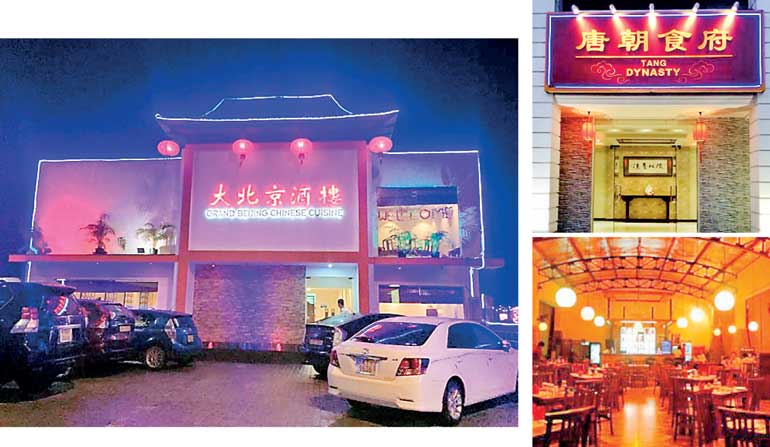 Xinhua: China has been a key partner and friend of Sri Lanka since ancient times and with bilateral ties never better and with a large Chinese community now living in Sri Lanka, Sri Lankans have embraced Chinese culture including the cuisine.

As China celebrates its Lunar New Year this week, several star rated hotels and restaurants, mainly in the capital, have been decorated to celebrate the grand event, also known as the Spring Festival.

The festival is the grandest and the most important annual event in China with more than 4,000 years of history and food playing a key role in the celebrations. Food traditionally served during Chinese New Year carries a great significance.

Over recent years, more than 50 authentic Chinese restaurants, owned and run by Chinese chefs and management, have been established, mainly in the Sri Lankan capital, in order to promote authentic Chinese cuisine.

Although initially the restaurants catered to a predominantly Chinese community, they have fast gained popularity among locals and foreign tourists who often visit the popular restaurants, due to the quality and authenticity of the food. The restaurants also promote Chinese culture and traditions, which have also been widely embraced by the locals.

"Most of the dishes we serve in my restaurant have a Chinese history to them. It is authentic Chinese food and it is prepared with the best ingredients," Zhang Hong, owner of the Fortune Boat Chinese Restaurant, in Colombo told Xinhua.

One of the most popular dishes the restaurant offers is Beijing Roasted Duck, more popularly here known as 'Peking Duck', which has been a staple in China since the imperial era.

"The speciality of this dish is that the meat is seasoned for at least 24 hours prior to cooking. Sugar-syrup is then poured over the entire duck until it reaches perfection in both taste and colour," Zhang, who personally prepares the dish, explained.

Peking Duck, although originally introduced for the restaurant's Chinese customers, has now become a popular dish among the locals who often visit the restaurant.

Another popular restaurant in Colombo serving authentic Chinese food is the Moon River restaurant. Several original Chinese dishes are prepared by two Chinese chefs, who are in Sri Lanka to promote Chinese cuisine.

The food has fast gained popularity due to its great taste and uniqueness. One of its dishes, 'Shanghai Style Pork with Egg', is a local favourite.

Other Chinese restaurants in Colombo, which have topped the list of the 'Best Chinese Restaurants' are: China Manor House, Huasui, Tong Ni BBQ, Sunlight Garden Chinese Seafood Restaurant, Tang Dynasty and Grand Beijing.

The restaurants also offer Chinese-style seafood such as crabs, different types of fish, prawns and lobsters. The dishes are fresh, well seasoned, cooked for hours and presented in an original Chinese style.

In addition to the great quality and taste these restaurants offer, they also represent the diverse regions of China and present dishes which are only made by original Chinese chefs representing those regions.

"We love Chinese food, especially since the entire menu at this restaurant is truly original. China has so much rich history and we can learn a lot about it through this food," Samantha De Silva, a frequent customer at the Huasui restaurant said.

The restaurants are now fully decorated for the New Year celebrations and are prepared to usher in another year of serving authentic, original and delicious food, while simultaneously spreading Chinese culture and tradition among Sri Lankans.