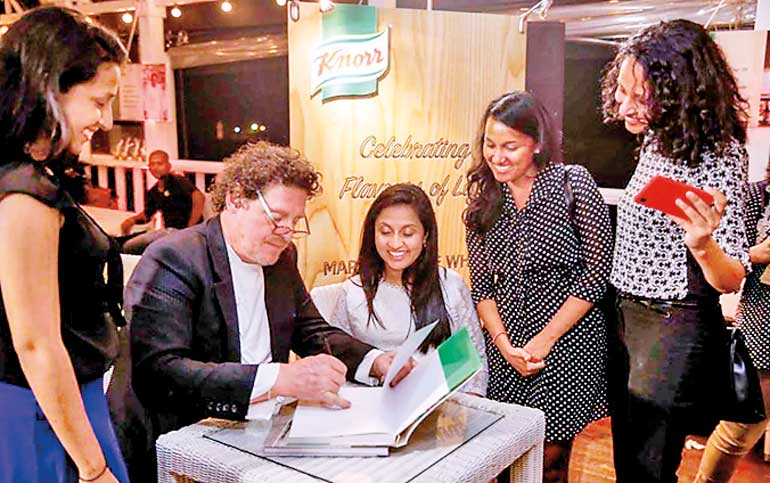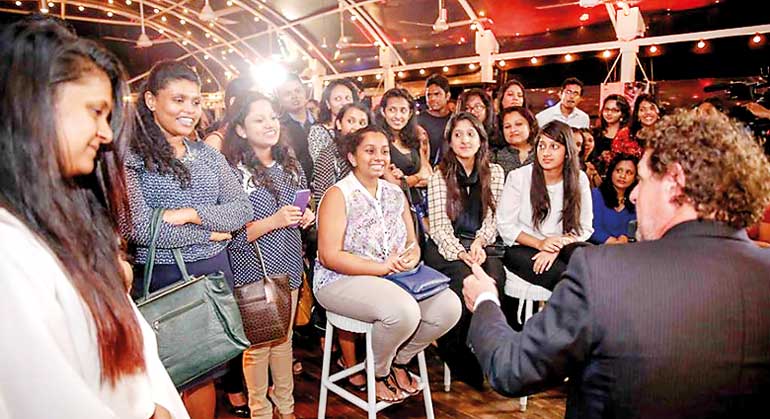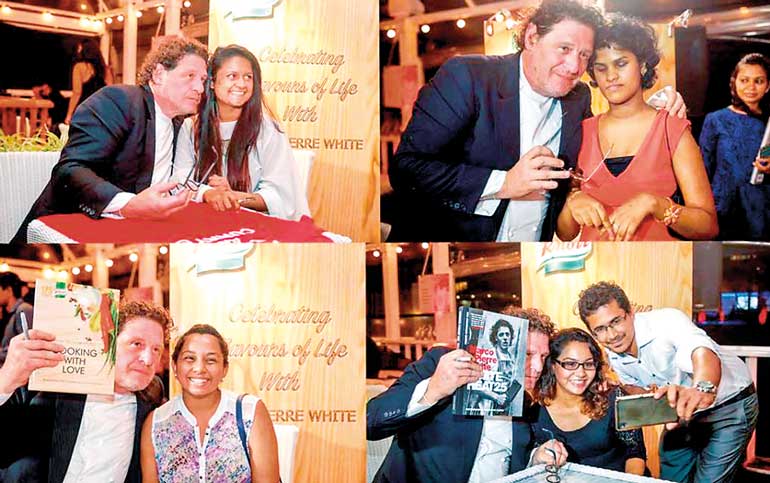 Culinary expert and Sri Lanka's trusted household brand Knorr recently hosted a cruise on the Beira Lake where visiting celebrity Chef Marco Pierre White who was hosted in Sri Lanka by Cinnamon Hotels & Resorts, flown down by the national carrier SriLankan airlines, met with several of his ardent followers and fans.

It was a memorable culinary experience as they set sail on an engaging journey of flavours at 8 degrees, Cinnamon Lakeside Colombo. The very relaxed evening saw Chef Marco in a very animated and interactive Q&A session about anything and everything related to flavours, cuisine and the culinary art. Quite contrary to his 'MasterChef' image on the hit television series, Chef Marco was totally relaxed, very outgoing and got everyone to come forward and sit around him. This was a rare opportunity to talk to him really close-up and pose a wide and varied range of questions to which he readily answered and sometimes in great detail too.

When asked about the use of many spices in traditional Sri Lankan cuisine, he said, "Sri Lankan cuisine has a great and rich heritage. I have never eaten so consistently anywhere else and Sri Lankan cuisine is one of the best in the world. Western cuisine does not use that many spices. I didn't have the time to explore Sri Lankan cuisine and its flavours but I will return to Sri Lanka one day to work with your chefs and learn how to use your spices in my own culinary journey."

Responding to a question on marrying flavours and making a flavourful meal at home he said, "The secret of cooking at home is to keep it simple. Many people do not have very large kitchens. Talking about myself, I make one-pot cuisine – such as a risotto, pasta or a stew. You come after a stressful day's work and don't want to be stressed again cooking. This is where Knorr come in as a genius product. Making a stock at home is cumbersome and complicated. Knorr does it all for you. Remember to keep it simple. The only thing that should dictate when you cook is your palate."

Sharing a few tips on successful home cooking, he insisted, "It is very important that you invest in a set of knives, a set of pans and large chopping board. The latter makes life in the kitchen much easier. And of course Knorr, which has a great range of flavours and is also a great time-saver."

One of the invites, Natasha, told him that she had quit her job as an accountant to take up to cuisine. To this he encouragingly responded saying, "Cooking is a philosophy and not a science. It is a way of life and not a job. It has it rewards. Follow your heart and make your dream come true. If you have a dream you have a duty and responsibility to yourself to make it come true. Your cooking becomes an extension of yourself and the world you were born into."

Interspersed with the book signing session were photo and selfie sessions as cameras and mobile phones went 'click', most of which ended up as instant Face Book posts attracting comments from around the world. It was without doubt a very inspiring evening and all of Marco's fans agreed in unison that they were richer by the experience.

A universally accepted brand, Knorr offers a dynamic range of options which have been judiciously crafted to perfection by over 600 Knorr Chefs worldwide. Knorr is a trusted brand among Sri Lankan housewives and has been helping mothers make great-tasting meals at home by providing simple and smart solutions.Marco Pierre White's tour of Sri Lanka is presented by Cinnamon Hotels & Resorts in collaboration with the British High Commission of Sri Lanka, the national carrier SriLankan airlines, HSBC, Knorr, Quintessentially Lifestyle, Land Rover Sri Lanka, Hellman Logistics, Sri Lanka Tourism, Cinnamon Air and Trekurious.