Modern cooking was never so convenient till Pyrex introduced its range of ultra tough cookware and bakeware. The innovative Visions and Corning range in which you can cook over a direct flame, serve, freeze, reheat and serve again, all in the same dish, saves the housewife precious time in washing and cleaning. Pyrex bakeware is the preferred choice for every baking requirement as well as oven and microwave cooking and is made of heat-resistant glass, while the elegant and stylish Corelle tableware complements Corning cookware with matching designs and styles. The Corelle is made of chip and break-resistant ceramic.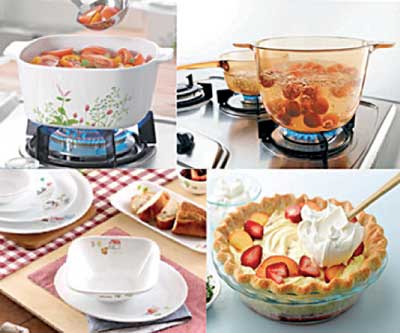 Over the years Abans PLC has gained widespread recognition as Sri-Lanka's most trusted cookware and kitchenware retailer. Abans is home to world-class brands namely, Pyrex, Visions, Corningware and Corelle from USA that have played an integral part in re-defining ones overall cooking experience and in addition Abans is the proud, sole distributor of these amazing products in Sri Lanka.

These products are available at all Abans showrooms island-wide and can be witnessed live in action during the cookery demonstrations held at the Abans Elite showrooms plus the products are on discounts of up to 30%. Abans is a household name in Sri-Lanka and continuously work towards bringing consumers the best quality products and customer service. A pioneer in home appliances in Sri Lanka, Abans offer consumers carefully selected kitchenware and dinnerware, and everything else you need, from the world's best brands, to make your home complete.