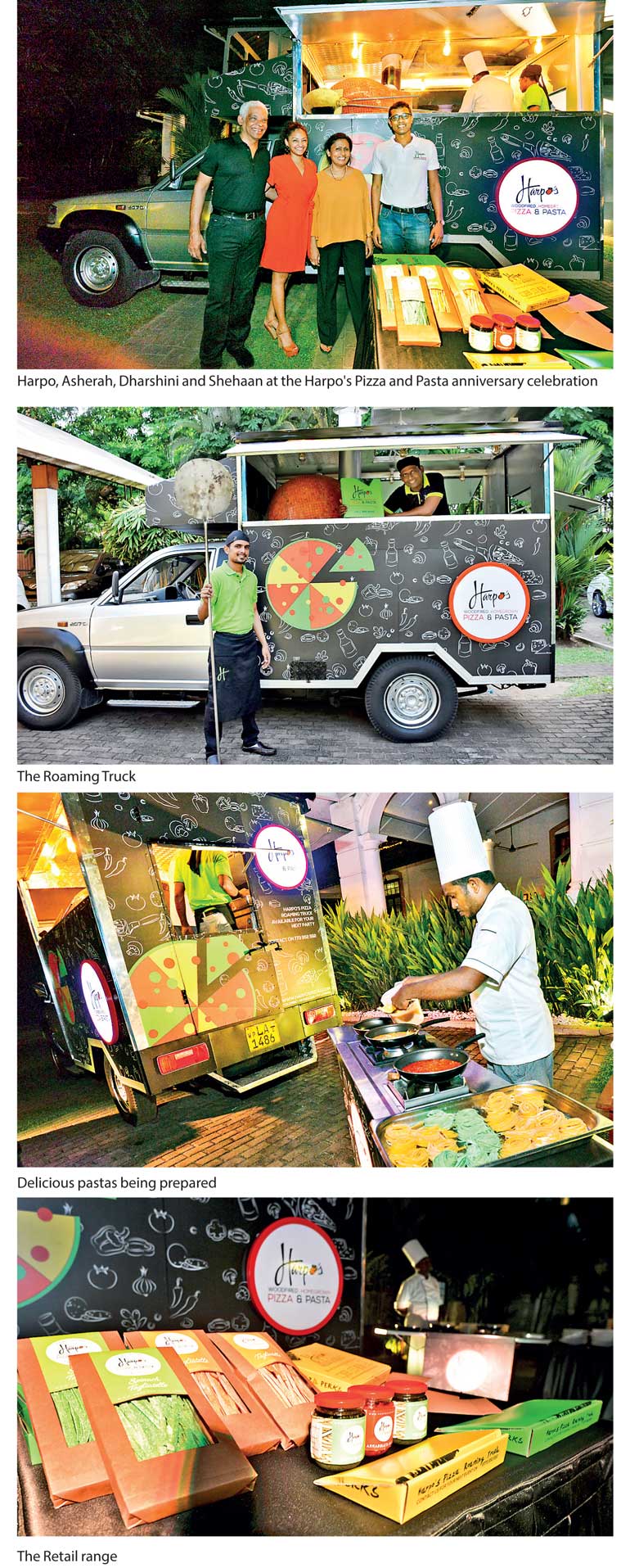 Celebrates 37 years in hospitality industry
Harpo's Pizza & Pasta marks 10th anniversary
Italian restaurant Bayleaf turns 12
First wood-fired Harpo's Pizza Roaming Truck and Mobile Pasta Cart launched
Colombo's first Cone Pizza range and Harpo's Retail range of Fresh Pasta and Sauces introduced
This week was a big week for Harpo Gooneratne. The dynamic and hands-on Head of the Harpo's chain marked 37 years since he

stepped into the hospitality industry, along with the 12th anniversary of the Bayleaf Restaurant and the 10th anniversary of Harpo's Pizza and Pasta.

The anniversaries were marked with well-deserved celebrations and new product launches. On Tuesday, Harpo announced the launch of Colombo's first wood-fired Roaming Pizza Truck, Harpo's Retail range of Fresh Pasta and Sauces, Colombo's first Cone Pizza range and a Mobile Pasta Cart.

Taking a few moments to express his thanks to God, his parents, family, staff, loyal customers and friends who have supported him throughout the years, Harpo was all smiles. "Over the last 37 years I have been a firm believer in two things that are positive and uplifting to the soul – music and food. Bringing people together, this is what inspires me!" he said.
Roaming Pizza Truck and Pasta Cart
Speaking about his pizza and pasta brand, he explained: "It has been an exciting journey for the past 10 years… creating and developing a brand that is now established as the first home-grown pizza brand. I am proud to have been the first to introduce the thin crust home-grown wood-fired pizza in Colombo along with more 'firsts' with the first largest 19" pizza and first square 22" pizza; now it gives me great pride to launch the first wood-fired Roaming Pizza Truck where our pizzas can be brought to your next party or event."

The Roaming Pizza Truck is designed to offer a maximum of 50 pizzas at an event in five flavours, offered in Regular 9" or Large 12" pizza sizes along with a selection of Calzone and Cone pizzas. It can be reserved for an event within Colombo and suburbs.

The first Pasta Cart complements the Pizza Roaming Truck but it can also be reserved on its own. It offers a selection of Pastas from Spaghetti Agliolio, Penne Alla Arrabiata, Spaghetti Carbonara and Spaghetti Bolognese which can be enjoyed at home parties or events. Reservations can be made on 0773 952 592.
Breakaway box and

Retail range


Harpo's Pizza & Pasta Brand Manager Shehaan Thahir explained the innovative reusable multipurpose breakaway pizza box which was also launched to mark the anniversary.

The box is designed in such a manner that it can be used as four plates, can be folded into a smaller box to store leftover pizza (on the rare occasion that happens!) and cuts down on wastage.

The anniversary celebrations also included the launch of Harpo's Retail range of Fresh Pastas and Sauces, which include Tagliatelle, Spinach Tagliatelle, Beetroot Tagliolini and Riccota Tortellini in 200 gram packs and Pesto and Arrabiatta sauce to go with it, which are sure to be a hit with die-hard Bayleaf fans.

The retail packs are available at Commons Coffee House and Harpo's Pizza outlets in Nugegoda and Mt. Lavinia.
Cone Pizzas now in Colombo!
The introduction of the first Cone Pizzas, which are sure to be a huge hit – especially with kids, was also part of the anniversary celebrations. The Cone Pizzas come in 30 flavours for dining in and are available at the Mt. Lavinia Harpo's Pizza and Pasta Parlour.

As Harpo's Pizza brand expands with the emphasis on being innovative, dynamic and introducing new ideas while offering quality products, it is sure to continue to satisfy, delivering new creations, old classics and fresh homemade flavours all the while – whether you're on the go, dining in, or taking-away.
Making people happy
Speaking to Daily FT, Harpo said: "What we are doing is pleasing people. I like to please everybody walking out of my properties. That's why I am a hands-on person. When I finish an evening and I know all my clients are happy, I know I have achieved something. I always thank God for what he has given me and what I am today."

Interestingly, many of Harpo's careers and ventures started in August – including his DJing and a lot of his restaurants. "I don't know why this is, maybe the influence of a hot August night!" he laughs.

Thanks to Harpo's unwavering commitment to realising his goals and his love for creating concepts, Sri Lanka today boasts several venues where people can relax and unwind, each different from the other, providing an eclectic mix with someone for everyone.
Hands-on


Harpo is nothing if not hands-on at all hours. From Bayleaf, The Commons Coffee House, The Park Street Mews, Curve and Harpo's Pizza and Pasta, he manages it all and is seen at his properties daily. He also operates a hotel school, in order to bring out confident young people who are able to understand basic customer service requirements.

"I have achieved all this with the staff around me – I would not have been able to achieve this alone. I have got great people working for me and great friends who have supported me over the years and of course, my family has always stood by me. Those are the key components in being able to achieve something," he asserted.

Here's to many more years of success for Harpo Gooneratne as he continues on his journey of making people happy!

Pix by Daminda Harsha Perera