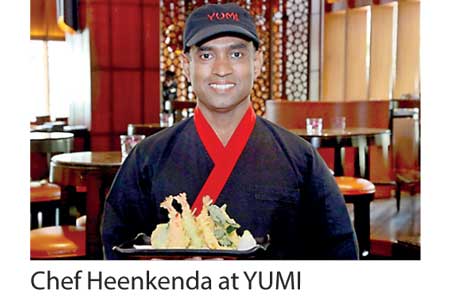 Taj Samudra's unique Japanese resto bar YUMI will feature a 'Saba Fiesta' for the Japanese food connoisseurs from 1-15 September during lunch and dinner. Dedicated to serving the most authentic menu, it will feature one of the most popular seafood dishes served as an entree or part of a bento combination in Japanese restaurants.

Japanese cooking is about bringing the flavour out of the food rather than creating complicated sauces to cover the taste of the food. This simple recipe called 'Sabashioyaki' demonstrates the Japanese way of cooking using only salt and letting the mackerel do the rest of the work. The various forms of Saba are prepared using the highest-grade ingredients specially flown in from Japan to ensure authenticity and exceptionality and every dish promises to be an epicurean feast.

Saba mackerel in English is a cold-water fish and it contains a high amount of omega-3 fatty acids, which help prevent cardiovascular disease and promotes brain health. In Japan, it is mainly called 'Saba', 'Masaba' or 'Sekisaba' and found mainly off Oita, Saga Prefecture, and quite a few off Yaizu.

You could take your pick from the Saba salads to the Saba kakiage accompanied with noodles and much more. Be sure to try out the signature teriyaki grilled Saba, the Saba Nabe and Saba Kare which are extremely flavourful and nutritious. The original flavour of the fish is further enhanced by adding sake or salt prior to grilling it to perfection. All dishes are presented in true artistic flair with suitable accompaniments. The promotion has not left a stone unturned by including a variety of mouth- watering Japanese desserts aptly referred to as sweet decadents.

Yumi has also welcomed one of its foremost maestros Chef Heenkenda who has returned after a brief spell overseas. His mastery at concocting the most fascinating Japanese dishes is renowned among Yumi's most loyal patrons.

Dubbed a sanctuary away from the bustling city life, Yumi incorporates plush seating, mood lighting, intimate spaces, a warm and welcoming aura, and vibrant lounge music every day of the week.

The menu also includes molecular and edible cocktails which are prepared on request and are accompanied by flared cocktails and beverages that combine well with the palate. Yumi also specialises in six varieties of Bento Boxes specially put together for the metropolitan lifestyle of the Colombo executives. You could experience the Bento lunch daily from 12:30 p.m. to 2:30 p.m. at the Yumi.

Open for lunch from 12:30 p.m. to 2:30 p.m. and for dinner from 7 p.m. to 11:30 p.m., Yumi seats 80 people in the restaurant and 24 on the exclusive outdoor dining area facing the pool.