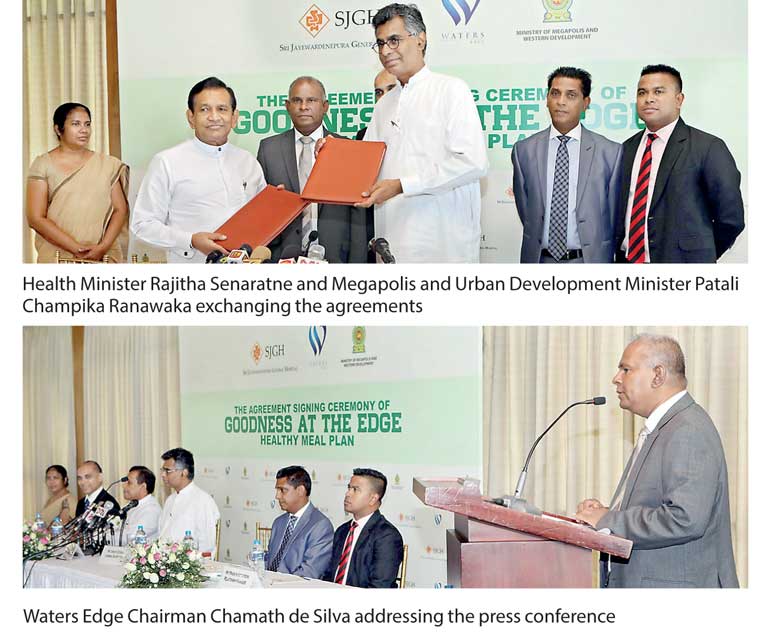 Healthy eating and a healthy lifestyle is Colombo's latest phenomenon. With the entire nation recognising the need for healthy living, supported by the Government, people are often looking for ways in which to consume healthier food.

Taking on the responsibility of providing a healthy meal option at an affordable price, Waters Edge, Colombo's fastest growing entertainment hub, launched 'Goodness at the Edge' yesterday (5 April), a healthy meal plan for busy lifestyles.

The brainchild of Megapolis and Urban Development Minister Patali Champika Ranawaka, this program will officially kick-start on 7 May. The press conference announcing the launch was held yesterday under the patronage of Minister of Megapolis and Urban Development Patali Champika Ranawaka and Health Minister Rajitha Senaratne.

"Healthy living is a trend that is catching on regardless of age, especially in Colombo. We are doing many projects to promote healthy habits in Sri Lanka in order to make our nation healthy. We commend Waters Edge for taking this initiative to provide healthy food to busy people," said Minister Senaratne.

"The Ministry of Megapolis and Urban Development is transforming Colombo city into a healthy one. We are glad that Waters Edge, which also comes under the UDA, is promoting healthy living through this meal plan," added Minister Ranawaka.

Those interested need to simply call Waters Edge and register. The hotel will then put you in touch with a qualified nutritionist from the Sri Jayawardenapura Hospital who will assess your health and create the perfect meal plan for your requirement. The plans are flexible and can be created on a weekly basis or for an entire month. Once created, the meals will then be delivered free of charge within a 10km radius of the hotel, and at a nominal delivery fee outside of the 10km boundary. Orders can also be customised to be one meal per day or all three meals.

Unlike other healthy food options, the Waters Edge 'Goodness at the Edge' meal plan comes certified by the Health Ministry, is created by professional dieticians and executed by world-renowned chefs. Further benefits include a waiving off of 20% from the Waters Edge annual membership for those who sign up for the six-month plan.

The healthy meal plan is truly a personalised service that no hotel has ever introduced. Everything will be customised according to the individual's health and

nutrition requirements.

Even the one-to-one sessions

will go through Waters Edge, taking away the cumbersome task of making appointments.