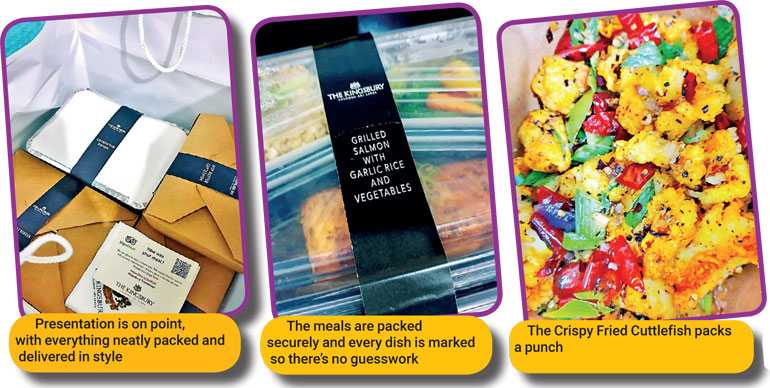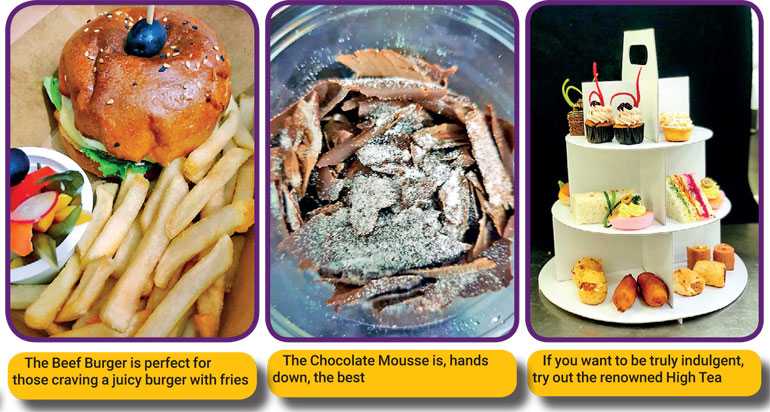 Reinvents dining experience in true 5-star style
New online delivery platform extremely user-friendly
Wide variety of cuisines on offer; menu features 171 dishes
Stringent protocols in place for food preparation, handling and delivery
Delivery personally handled by dedicated Kingsbury associates
High Tea and 'Safe Celebration' packages also available
---
By Marianne David
---
With the launch of its delivery menu and online platform, The Kingsbury is back to delight diners by bringing indulgence home.


The process starts with customers logging on to the online platform www.indulgence.thekingsburyhotel.com, which is extremely user friendly, and ends with an elegantly-presented meal at your home, with zero hassle throughout. 


Process and presentation

 Trying out the service, I was delighted by the wide variety on cuisines on offer – Chinese, Japanese, Indian, Sri Lankan… With 171 dishes featured with pictures, make sure to give yourself time to go through the menu at leisure.

Once I placed the order online, which was made all the more convenient by not having to create an account – you can simply select your items and checkout – the hotel sends emails every step of the way, keeping customers informed regarding confirmation, preparation and delivery.



The bill breakdown is also provided and includes a reasonable delivery fee – which is indicated during checkout. An aspect I truly appreciate is that prices shown online are nett, so only delivery is added on.

The delivery process itself is outstanding and this is what sets the hotel apart. Handled by The Kingsbury's staff to ensure quality, safety and superior service, your meal comes to you in their own vehicles, manned by dedicated hotel associates, without third-party services – ensuring an additional layer of security. Stringent protocols have been implemented in terms of food preparation, handling and delivery.

How food looks when it reaches the diner is ever so important and The Kingsbury ensures it looks very good indeed. The meals are packed securely; every dish is marked individually so there's no guesswork; and the presentation is perfect. The majority of the packing is eco-friendly. 


Plates and pricing

 I tried out the Crispy Fried Cuttlefish, Grilled Salmon, Chicken Dum Biryani, Cheese Roti with Fish Curry and Sambols, and Chocolate Mousse.

Crispy Fried Cuttlefish is irresistible to most Sri Lankans and I am no exception. Spicy and generous, featuring chunky pieces of cuttlefish with a Thai tamarind sauce on the side, this dish is loaded with red chillies and packs a punch. The regular is priced at Rs. 900 and large at Rs. 1,600. The latter is for four but can definitely feed more.

The Chicken Dum Biryani – yoghurt marinated chicken cooked with basmati rice, served with pickle, raita and gravy, topped with a boiled egg and loaded with cashews – is priced at Rs. 1,000 and is a dish to die for. It speaks to you first with its enticing fragrance and makes for a very satisfying meal indeed.

The Beef Burger with Pickle Dill Relish and Fries, priced at Rs. 1,100, is perfect for those craving a juicy, chunky, big burger coupled with the comfort of thick cut fries. The beef patty is juicy and delicious, there's lots of cheese, and the relish gives the meal a tangy twist.

The Grilled Salmon with Garlic Rice and Vegetables, priced at Rs. 1,900, is one of the undisputed stars on the menu. The salmon is exquisite, the sauce is perfection, and the garlic rice is succulent. This salmon speaks to the soul. God bless the chef.

The Sri Lankan meal I picked definitely sets the taste buds tingling – Cheese Roti served with Katta Sambol, Seeni Sambol, and Chicken or Fish Curry. Rs. 1,100 regular and Rs. 2,000 large.

The regular portion features six rotis oozing with cheese and is more than enough for two. The sambols are very generous and I picked the fish curry, which was on point and came with a whole lot of gravy for dipping the delicious rotis in before indulging.

To end the meal, what better way than the exquisite Chocolate Mousse? This is, hands down, the best chocolate mousse in the city. Priced at Rs. 500, laced with chocolate shavings and dripping with chocolate sauce, this is a divine dessert you cannot share.

If you want to be truly indulgent, you can try out their renowned High Tea. But that's not all on offer. The hotel takes it further with 'Safe Celebration' packages – for romantic anniversaries to small birthday celebrations at home. 


Places

 Right now The Kingsbury delivers orders daily from 9 a.m. to 9 p.m. Delivery areas are Colombo 1 to 15, Nawala, Kotte, Rajagiriya, Battaramulla, Thalawathugoda, Nugegoda, Mirihana, Kohuwala, Kalubowila, Dehiwala, Mount Lavinia, and Wattala.

To close: Many places do good food. Some do good food and great portions. Fewer do good food, great portions and decent prices. But it's a rare place that does all this while following stringent safety procedures during a global pandemic and does it elegantly to boot.

Kudos to The Kingsbury for reinventing the dining experience in true 5-star style!