Two years ago, an ambitious couple set out on an adventure to meticulously createwithin Colombo's café scene'A space where all good things combine'. Backed by years of experience in the hospitality industry, Tharanga and Dushanthi created a unique café that pays tribute to good food, a great atmosphere and a place where one feels like home. 'The Cauldron' which opened doors two years ago soon caught on with an eclectic mix of customers who literally fell in love with the place, the food,and the peopleand became partners on a common mission.

"Our customers gave meaning to the purpose of our existence and continue to inspire us to dream big and do bigger," the couple said on their second year celebration.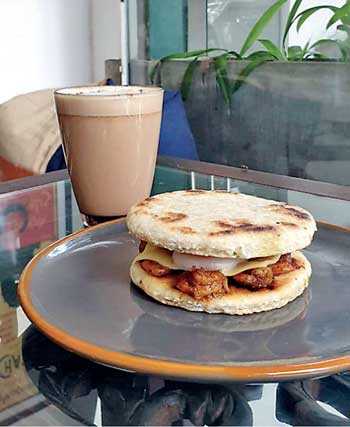 "Over the last two years we are glad to see a build-up of a loyal customer base. Our guests now have favourites on the menu that they come looking for time after timeand simply refuse to let us remove certain items off the menu. We are also extremely lucky to have a bunch of staff who have taken on the running of the place like their own and have built great relationships with our customers,"they added.

In celebration of the two-year mark The Cauldron has cooked up some interesting additions to its menu including a Harry Potter inspired 'Butter Beer', a love it or hate it kind of drink that has become an instant favourite. The team refuses to let the secret recipe out, however it is a must-try. A creamy, malty, bubbly drink that almost magically changes colour right in front of your eyes.

Having introduced the Pol RottiKottu and Pol Rotti Burger at its inception, The Cauldron has also added on a Three Cheese Pol RottiKottu which is by far the cheesiest you will find in the city. The Creamy Smoked Chicken Pasta with a Lankan Karapincha twist certainly teaches Italians that curry leaves are as good as Oregano any day. Another great addition is the 'Be My Sunshine' which is a Burnt Butter Rice served with a tangy Orange Chicken that is sure to light up your appetite.

The Cauldron special Hot Chocolate menu also has a new addition in the White and Dark Hot Chocolate that combines the best of both worlds. It pays tribute to the magical world that is neither completely good nor evil. "The latest additions to the menu have also come through a lot of conversation with our patrons who are more than happy to give us positive and negative feedback. Despite the recent challenges in the country, our customers have remained faithful and for this too we are eternally grateful," T& D added. The Cauldron situated at Stratford Avenue, Colombo 5 is placed in an area that is dedicated to arts, crafts and high fashion. This too has contributed to the café's popularity and footfall. Consistencyand uniqueness in the food offering and service standards is also another important plus point. Having opened its doors to events and gatherings such as Open Mic Performances, Book Readings, Art Displays and Charity Fundraisers, The Cauldron hopes to do many more such events and continue to innovate in the future.