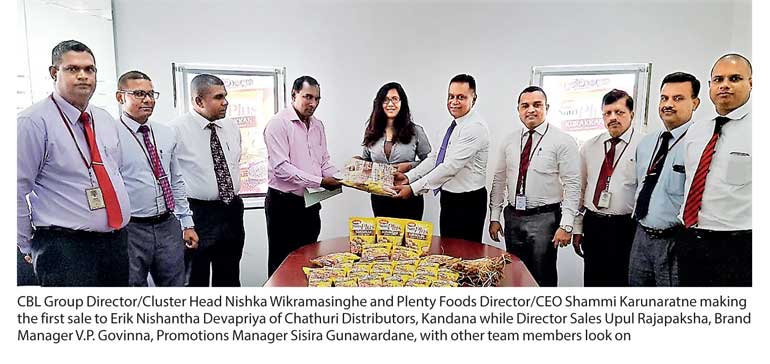 Samaposha, Sri Lanka's favourite breakfast cereal, especially among children, has launched 'Nutri Plus' – a new breakfast cereal for the whole family. It's brimming with the goodness of Kurakkan, to improve the nutritional needs of our nation. Samaposha Nutri Plus Kurakkan comes in two convenient pack sizes – 200g and 500g – and is the ideal option for busy people who are interested in healthy foods to enrich their lives.

Samaposha Nutri Plus Kurakkan is manufactured by Plenty Foods Ltd., a fully owned subsidiary of Ceylon Biscuits Ltd. (CBL) and the new formulation with Kurakkan resulting from extensive research, strengthens the company's highly successful backward integration program further. The new formulation in Samaposha Nutri Plus includes corn, soya, finger millet, red rice and is pre-cooked. It contains protein, iron and fibre and is fortified with vitamins and minerals.

The focus on Kurakkan results in a wide range of benefits and helps those who wish to reduce weight and cholesterol and most importantly, control diabetes. Kurakkan makes bones stronger and improves digestion. It is also beneficial for nursing mothers who want to increase lactation. For most people it helps to prevent anemia while maintaining a younger looking skin.

Plenty Foods Director/CEO Shammi Karunaratne said, "We are excited about our new brand extension that will contribute significantly towards building a healthier nation. Samaposha Nutri Plus can be prepared as a cereal or in the form of 'Aggala'. Kurakkan in the product makes it palatable to both adults and teenagers and will help to make the population healthier. Our farmers too will benefit from the launch of a new product that will strengthen our outgrower system and support the farmer community."

The ingredients in Nutri Plus Kurakkan are 100% natural, bringing benefits to both the farmer and the consumer. The company's backward integration program ensures that the farmers who cultivate the required raw materials are paid a guaranteed price based on the prevailing market rates. In turn, the Company is confident of receiving high quality grains required for the production. More than 8,500 farmers and their families are engaged in the company's outgrower system that contributes significantly to Sri Lanka's rural economy. The Corporate Social Responsibility (CSR) programs in place provides the Samaposha farmer community with a variety of benefits through the 'Govi Paula' initiative.

Plenty Foods has won several awards and recognition for providing a well-balanced, quality assured, wholesome, pre-cooked breakfast cereal, including a gold award at National Agribusiness Awards. The brand Samaposha has also received Good Manufacturing Practices (GMP) certification as well as ISO 22000 and HACCP certifications which are hallmarks of quality.