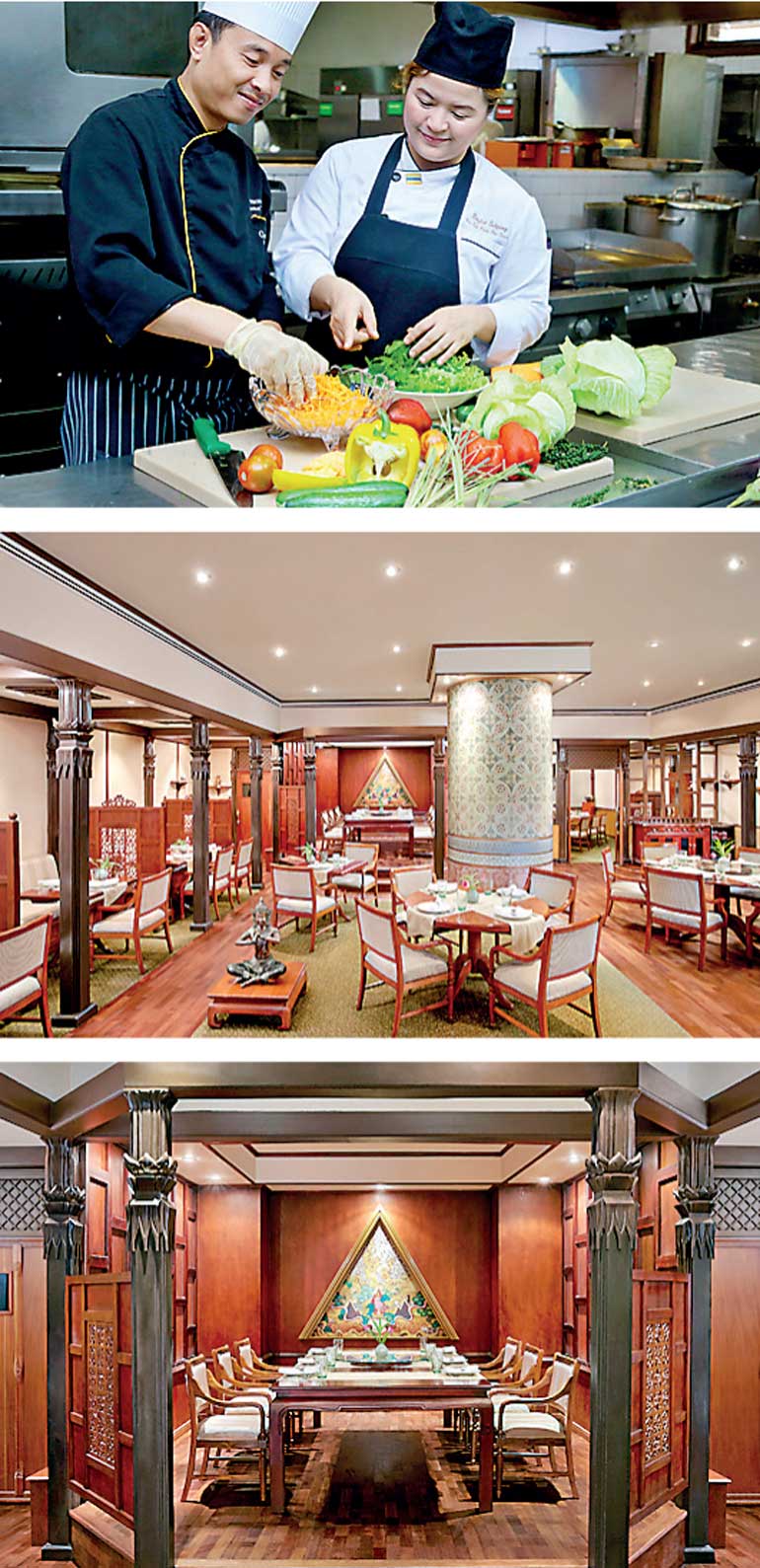 Thai food is a firm favourite with foodies and connoisseurs the world over. For Lankan diners and those visiting the island who are on the lookout for authentic Thai cuisine, the obvious choice would be Cinnamon Lakeside's Royal Thai. The restaurant believes in doing things differently; they are in every sense as authentic as they claim.

Two daring chefs, B. Sabpong specialised in traditional Thai cooking and S. Moonpen whose wok food preparations are out of this world, preside over the Royal Thai kitchen. Together they concoct experimental Thai food combining heady spices and herbs designed to punctuate the taste buds.

Some specials include Som Tum Mung Sa Vi Rat (a raw papaya salad, sprinkled with peanuts), Choo Chee Goong (prawns in homemade chilli paste) and Pla Muek Thod Grob Sauce Prik Phao (crispy fried cuttlefish infused with a special Thai chilli sauce).

These authentic meals are served in an authentic regal Thai setting, just as the restaurant's name suggests. From the face towels a diner gets on arrival to the interiors and the plating of each dish, the entire Royal Thai experience is designed to create a meal fit for a king and queen.

Knowing this, it is no wonder that the Thai Select program has given Cinnamon Lakeside's fine-dining Thai food venue an 'Authentic Thai Cuisine' certification. The program run by the Department of International Trade Promotion of the Thai Government's Ministry of Commerce aims to identify and reward those creating genuine cuisine experiences from Thailand elsewhere in the world. It serves as a seal of approval from highest possible authority on Thai food and no doubt places Royal Thai at Cinnamon Lakeside at the very top of their game.

This certification is among several awards Royal Thai has won over the years, further establishing the restaurant as the premier provider of authentic, fine Thai cuisine in Sri Lanka. Royal Thai's latest honour only adds to its appeal and authenticity.

If Thai cuisine is on your mind right now, head to Royal Thai at Cinnamon Lakeside Colombo for exotic aromas and flavours that will spring to life with each bite, as you sit surrounded by regal perfection.

Royal Thai is open from 12 noon to 3 pm for lunch featuring a special authentic set menu at Rs. 1,955 nett per head and open for dinner from 7 p.m. to 11 p.m. Call 0112 491945 for reservations.