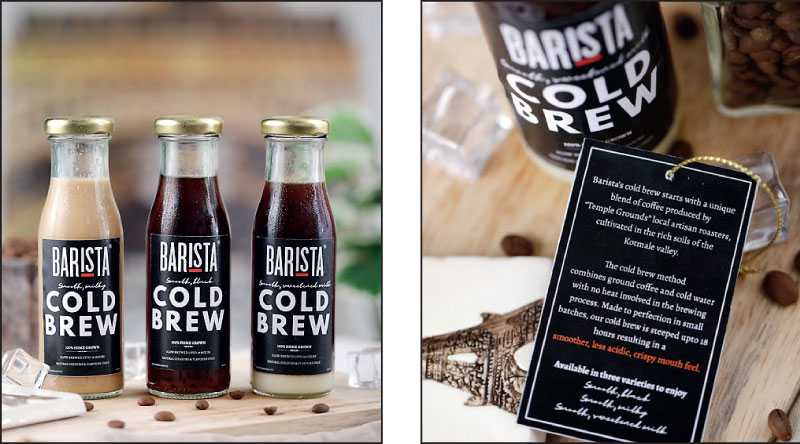 ---
When the heat rises in the paradise isle, we all have our go-to chilled beverage. Bringing the coffee aficionados another reason to rejoice, Sri Lanka's largest coffee chain Barista recently introduced its signature range of Cold Brews. The three delicious varieties, Black, Milky and Sweetened Milk, cater to everyone who has a specific way that they take their coffee.

Barista's Cold Brew starts with a unique blend of coffee produced by Temple Ground artisan coffee roasters, cultivated in the soils of the Kotmale Valley. Cold Brews have become the new go-to thirst quencher and is super smooth, less acidic and less bitter too.

Brewing for more than 18 hours makes Barista's Cold Brews unique in its taste factor with the coffee flavours being at its best in every sip. The handy bottles can be stored in a refrigerator for up to two weeks making it so much easier to grab a sip whenever you need it, night or day. "Cold Brew is a coffee trend that has been around for a while internationally and we at Barista are happy to be introducing a range using locally cultivated and freshly roasted coffee to the market. The three varieties are distinct and have their own characteristics. Cold Brews generally have a lot of flavour pairings but we have kept it simple with the strong black, milk tea and sweetened milk versions that are more familiar to the Sri Lankan coffee lover," said Barista's NPD Manager Damith Dalawalla.

The Black as its name suggests is the classic black coffee. The fact that it's a Cold Brew cuts back on the bitterness making it just the right punch for a wake-up call. The Milky on the other hand is the perfect any time of day drink that is light on the sweetness and just right on the coffee flavour. The Sweetened Milk is the one for the daring ones who really need a kick of sweetness to get them going.

Barista's extensive food menu of both savouries and sweets can be paired with any of the Cold Brews for a satisfying meal at any time of the day. The Cold Brews are available at all nine Barista outlets, and on Uber Eats and PickMe Food.