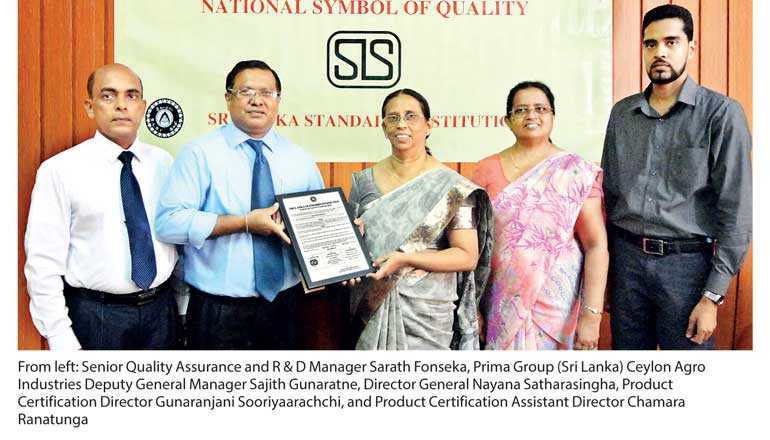 Prima Stella Set Yogurt was recently awarded the prestigious SLS certification by the Sri Lanka Standards Institute, thus becoming one of the few brands to obtain the SLS certification in the yogurt category.

A mere one and a half years following its launch, Prima Stella Set Yogurt is one of the fastest-growing dairy brands in the country. The brand has gained a great deal of popularity thanks to its distinctive taste and guaranteed quality.

The product certification scheme, commonly known as the SLS Marks Scheme, is a program of the Sri Lanka Standards Institute that gives a third-party guarantee on the consistent quality of a product. The certification stamp signifies that the recipient (commodity or product) is consistently manufactured in accordance with the relevant Sri Lanka Standard Specification and can be purchased with an assurance of quality. This provides the brand with a renowned indisputable testament of its high standard of quality by a respected institution.

"Receiving the SLS certification is a significant achievement to all of us at Prima. The SLS stamp tells the entire country that Prima Stella Set Yogurt is a product of excellent quality, and that we maintain the highest of standards. Consistent quality has always been our primary focus when it comes to all Prima products, and Prima Stella Set Yogurt is no exception to the rule, which is why the brand enjoys ever-growing popularity among consumers,", stated Prima Group (Sri Lanka) Ceylon Agro Industries Deputy General Manager Sajith Gunaratne.