---
Platinum One Suites recently announced the opening of the newest café in Colombo, Café at One. Located on the ground floor of the Platinum One Suite at Bagatalle Road along the bustling Galle Road, Café at One will do more than just serve great food and drinks.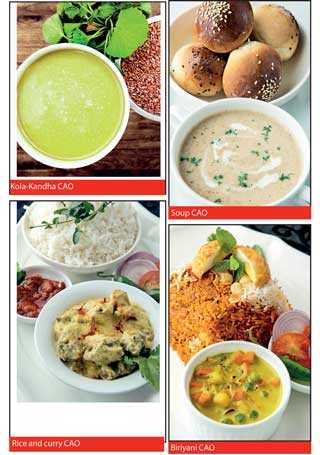 There is a variety of sweet and savoury food and drink available at the café including healthy breakfast options such as herbal porridge, boiled and tempered gram, boiled chickpea, dosa, milk rice with accompaniments, roti with accompaniments and fresh juice options as well.

Guests will also find a selection of wraps and sandwiches including the most preferred local favourite – roast paan (bread) sandwiches at the live sandwich counter of the café. The roast paan sandwich selection includes options such as polos and cheese, pol (coconut) sambol and cheese, polos and seeni sambol, fish and chili and much more. You can also choose your own ingredients and have your sandwich made to your preference.

Lunch diners are not left out at Café at One. The lunch menu list will include meals like nasi goreng, fried rice, rice and curry, soups, salad, plus many other sumptuous meals. Diners will also have the option to get The Village Pack – a large serving of rice, meat and accompaniments filled with local flavours for Rs. 400. Diners can decide to eat in or take their meals away.

Guests can also pop in and out for sweet treats at Café at One whether it is cupcakes, cheesecakes, donuts, fruit cakes, chocolates, éclairs or whole cakes. The café also serves a variety of savouries combined with any of a nice cup of coffee, tea, milkshake, soft drink or juice.

Every Friday evening, Café at One takes to the streets with a mouth-watering selection of Sri Lankan street food from the famous kottu, wadey, roti to roast paan and curries – a perfect treat for some after-work food therapy.

In addition to food items, snacks and drinks, Café at One offers catering options for office parties and gatherings. As an added bonus offering, Café at One will deliver its savouries, sweets, breakfast, and lunch servings to customers within a 5 km radius of its building for orders of 20 people or more.