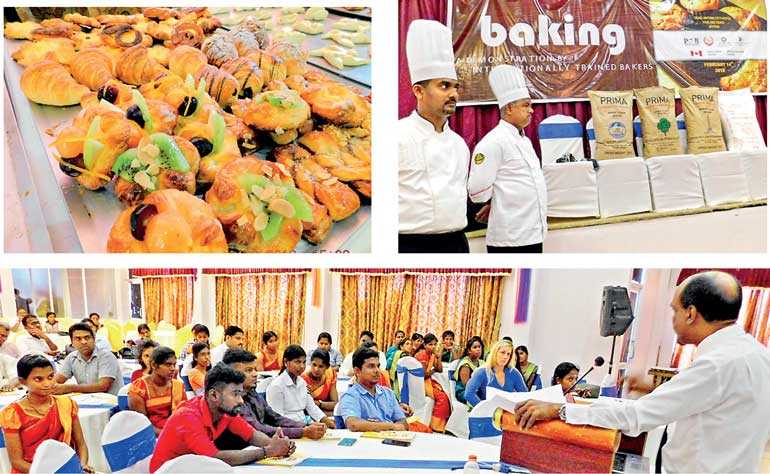 40 bakers representing the top talent and best hotels in the northern region of Jaffna gathered recently to develop world class baking skills. Prima Ceylon, the pioneer flour milling company in Asia, World University Service of Canada (WUSC), a non-for-profit with a mandate to build the Sri Lankan youth and female workforce, and the Northern Province Tourism Association (NPTA) partnered to host a technical baking workshop designed to skill up Sri Lanka's baking industry workforce. The baking vocation was targeted specifically to better serve the growing tourist demand in the north by providing quality pastries and dining experiences.

Sri Lanka is an increasingly popular destination for international travellers, as well as for expatriates returning home to visit. Tourism is the third largest export earner in the Sri Lankan economy and has been growing 22% year on year with revenues the highest to date in 2016 at $3.5 billion (Sri Lanka Tourism – Strategic Plan 2017). Nationally the country has recognised the need to improve the quality of services in Sri Lanka to ensure a positive experience and encourage repeat visitors.

The baking workshop was led by Prima Baking Training Centre (PBTC) Principal Ranjan Amarasighe. The focus of the workshop was on breakfast pastries and breads, and involved sharing new techniques and recipes to improve the breakfast pastry options in the northern district of Sri Lanka. Prima, WUSC, and NPTA have partnered in hosting this event to develop the talent of Sri Lanka's tourism workforce in the north.

Ranjan Amarasighe had this to say about the program: "As a major supplier of flour in this country Prima is committed to developing the quality and consistency of baking in Sri Lanka. Keeping in line with this vision, PBTC has taken upon itself the responsibility to train bakers, house wives and others on industry quality and consistency." The effort to make all bakeries of a single high standard, will serve as one step in the path to make Sri Lanka a known destination for culinary excellence. Amarasighe went on to say that Prima also takes a keen interest in creating greater awareness among youth to take up baking as a career.

"Perceptions around the baking vocation are changing. Internationally, high quality bakers are greatly admired and respected, pulling in a healthy salary; it is constituted a very respectable vocation. In Sri Lanka we see this shift in perspective occurring as well as more youth and women are entering the field. At PBTC over 30% of our classes are comprised of women."

WUSC also recognises the importance and opportunity of showcasing and building the baking vocation in Sri Lanka, particularly with respect to the opportunities available for women.

Ester MacIntosh of WUSC adds, "WUSC is delighted to be a part of this milestone event. We are very excited about our partnership with Prima Bakery and NPTA, because it shows our collective willingness to collaborate and work together to support the development of the tourism industry in the north. We must work together to ensure that all hotels, big and small, are able to offer quality services through trained and skilled staff, and quality products that will keep visitors coming again and again. With the help of Prima Bakery we can ensure that every meal that a guest has, is memorable, and meets the high standards and expectations that they have."

This event was the second of five planned across Sri Lanka; the first event was held in Aragram Bay and was very well received by hoteliers and students alike. The next will be held in Matara, a well-established tourist district, 23 March of this year. Follow on events are planned to be held in Trincomalee and Pittman.