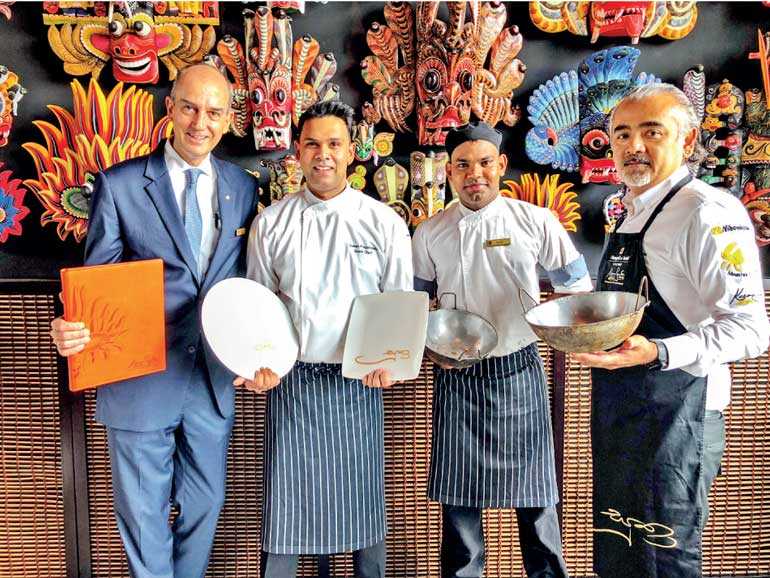 Kaema Sutra at Shangri-La Hotel, Colombo teams up with their sister London property Shangri-La Hotel, At The Shard, London to open their first ever pop-up restaurant on 10 and 11 April. The pop-up restaurant showcases the finest of native Sri Lankan delights with Celebrity Chef Dharshan Munidasa and his team, consisting of Chef Gehan Polgampalage and Chef Amith Gamagedera.

Chef Dharshan had this to say, "I am truly excited about presenting contemporary Sri Lankan cuisinein London." The pop-up will be housed in the TĪNG Restaurant and Lounge at Shangri-La Hotel, At The Shard, London. Menu highlights include a la minute dishes such as the much-loved Egg Hopperwhilst the Spicy Avacado Salad, Tuna Ambulthiyal, Rustic Coconut Roti, Crab Kottuall add to the array of flavours. What The Hopper, a decadent dessert of crunchy honey hopper filled with whipped cream and freshly chopped strawberries, finished with a drizzle of kitul treacle, is one of Chef Dharshan's own favourites.

"We are delighted to work with Shangri-La Hotel, At The Shard, London and host the first Kaema Sutra at Shangri-La Hotel, Colombo's pop-up restaurant," says Timothy Wright – Vice President and General Manager of Shangri-La Hotel, Colombo. He elaborates, "Sri Lankan cuisine is gaining popularity across the globe for its use of aromatic spices and unique cooking techniques that create lingering flavour."

Creating further excitement around the event, SriLankan Airlines is on board to award a lucky winner with a fabulous getaway that would encompass two return air tickets to Colombo along with a stay at Shangri-La Hotel, Colombo and Shangri-La's Hambantota Golf Resort & Spa, as a welcoming addition to make the event a pleasing success.

Kaema Sutra at Shangri-La Hotel, Colombo is part of the six innovative restaurants and bars make Shangri-La Hotel, Colombo the dining and social hotspot of the city. Table One, the all day dining restaurant serving market style world cuisine; Shang Palace, Shangri-La' signature Chinese restaurant; The Capital Bar & Grill that serves the finest steaks and seafood grills with an range of specially crafted beverages; Sapphyr Lounge serving exquisite light eats and beverages, areall praised amongst local and international diners.

Hong Kong-based Shangri-La Hotels and Resorts currently operates over 100 hotels with a room inventory of over 41,000. Shangri-La hotels are five-star deluxe properties featuring extensive luxury facilities and services. Shangri-La hotels are located in Australia, Canada, mainland China, Fiji, France, Hong Kong, India, Indonesia, Japan, Malaysia, Maldives, Mauritius, Mongolia, Myanmar, Philippines, Qatar, Singapore, Sri Lanka, Sultanate of Oman, Taiwan, Thailand, Turkey, the United Arab Emirates and the United Kingdom. The group has a substantial development pipeline with upcoming projects in Australia, mainland China, Cambodia, Indonesia, Malaysia and Saudi Arabia. For more information, please visit www.shangri-la.com.