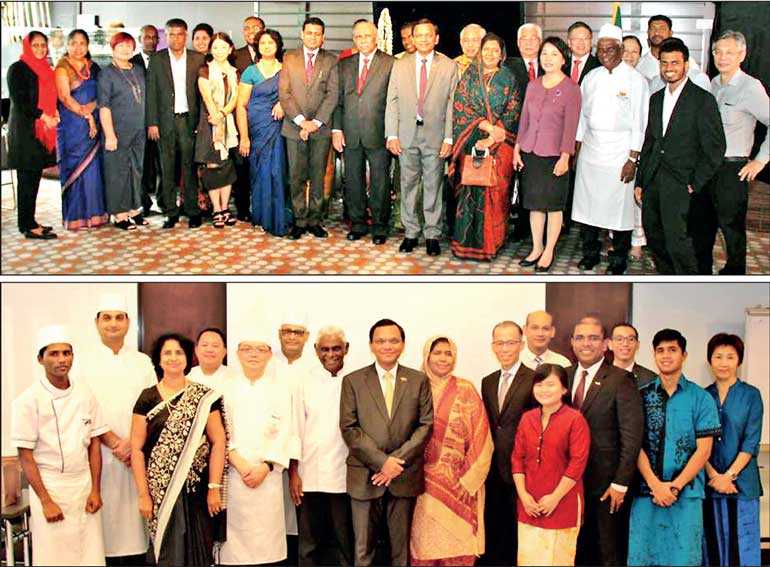 ---
The High Commission of Sri Lanka in Singapore in collaboration with Hotel Mandarin Orchard, Singapore organised a 'Sri Lankan Food Festival' to mark the 71st Anniversary of Independence of Sri Lanka. The event was held from 13 to 15 February at Hotel Mandarin Orchard in Singapore.


The 'food festival' was jointly inaugurated by Acting High Commissioner of Sri Lanka to Singapore O.L. Ameer Ajwad, High Commissioner of Singapore to Sri Lanka S. Chandra Das, and Meritus Hotels & Resorts Chief Operating Officer Tan Kim Seng, on 13 February. Sri Lankan Celebrity Chef Desanandhu Dr. Publis Silva of Mount Lavinia Hotel was invited by the Sri Lanka High Commission to showcase the authentic Sri Lankan cuisine in Singapore.

At the inauguration, which was attended by many Ambassadors, members of diplomatic Corp and other invited guests, Actg. High Commissioner Ameer Ajwad remarked that the Sri Lankan cuisines have been shaped by many historical and cultural factors and that the island's colourful cultural pageantry has mainly contributed to the diversity of its cuisine. He also emphasised that the purpose of the food festival was to revive the historical link between Sri Lanka and Singapore in its culinary form, as well as to promote people-to-people ties by introducing diverse Sri Lankan cuisines, resembling with cornucopia of Singapore cuisines. Chandana Wickramasinghe Dance Guild performed at the inauguration.

Sri Lankan Celebrity Chef, Dr. Publis Silva who pioneered promoting the Sri Lankan cuisine around the world, prepared a variety of authentic Sri Lankan cuisines, including Sri Lankan crab curry loved by many Singaporeans, fish ambulthiyal (sour fish dry curry), tempered cashew curry, and seafood rice with a variety of dishes, to serve at the food festival.

The High Commission facilitated renowned tea brands such as Basilur, Akbar and Hyson who promote Ceylon Tea in Singapore, to showcase their products among Singaporean food lovers during the food festival. The High Commission also facilitated the introduction of 'Mohksha', a brand developed by Stone 'n' String to feature Ceylon Cinnamon and its usage for healthy living. Many facets of Sri Lanka tourism including its natural beauty, arts and culture were presented in documentaries throughout the three-day event.

The Sri Lanka Food Festival attracted over 600 food lovers from a cross section of people in Singapore, who flocked to the Hotel Mandarin Orchard to enjoy the Sri Lankan cuisine.

The High Commission arranged the Channel News Asia of Singapore to interview Chef Dr. Publis Silva, who spoke on Sri Lankan cuisine, its cooking style as well as its health benefits.