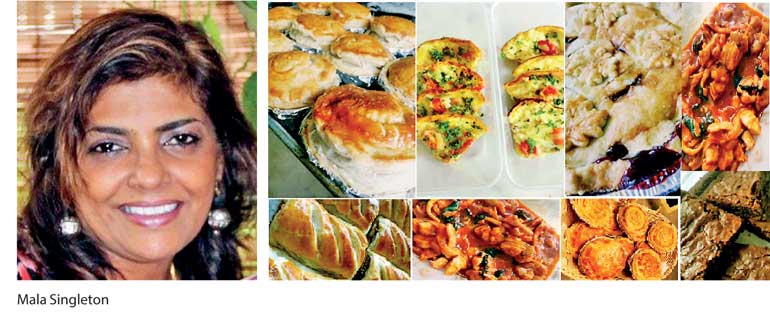 We have all heard our grandmas swearing by this method of catching a man's attention! Nevertheless, in the modern era, women have been distancing themselves from the stove as they battle on to meet the demands of living, not in a kitchen but in offices. But when it comes to home cooking, rush to your mother to add some real food to the taste buds just to survive.

To meet the demand, more and more home cooks are emerging with their favourite rice and curries, short eats and cakes. Amongst these women, there is one woman who is doing things a little differently. Mala Singleton, who has travelled and lived in 37 countries, brings international flavours to the table.

She opened a café with her Australian husband 'Wayne's Junction' in Thalawathugoda and continues to introduce her international flavours through 'Harvest Health'. She introduced the concept of 'Low carb meals' cooked, packed and delivered in recyclable containers to your door, based on the Keto and Paleo diet.

She has several clients who order the meals for the week and enjoy new flavors to stimulate their taste buds together with the benefits of eating healthy. Then she has her signature baked goods, like the gooey gooey chocolate cake, peanut butter cookies, yoyos, and her brownies are to die for! Included in the bakes are the sweet pies made of blueberry, strawberry, rhubarb or apple.

The 'wingpie' got its name from flying away out of her oven to the hungry waiting mouths. A four-inch beef, seafood, chicken, beef stroganoff and veg pie, filling enclosed in a succulent, tender pie crust. And if you have been missing out on your English muffins, well you know where to ask for some.

There are some local favourites that she excels in, for example the Dutch lamprise (a recipe handed to her by her great grandmother Miss Van de Straat), Nasigoreng with satay and peanut sauce and a mouthwatering Pakistani biriyani.

Mala Singleton stands out with her Harvest Health cuisine from all the rest. Being a personal chef, she will come to your home and lay out her signature menu: Fajita, Spanish rice and beans with fresh tomato salsa.

Certainly, not your run of the mill flavours but some to absolutely win not only your man but your mother-in-law too! So, what are you waiting for, give Mala a shout on 0773082561.