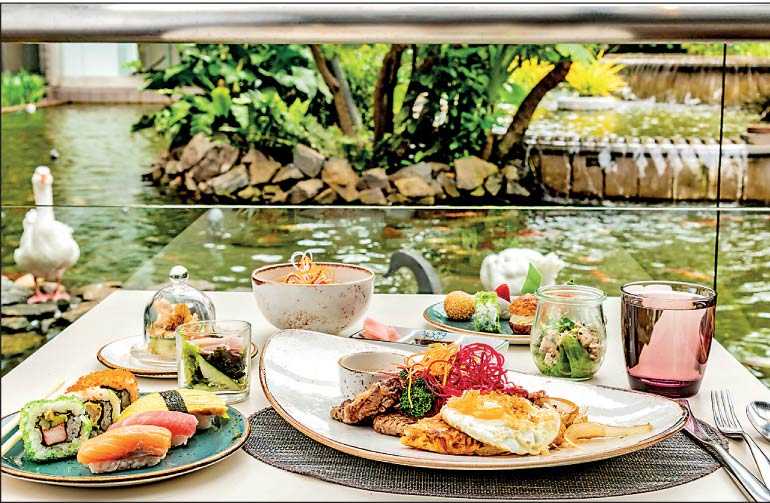 The all-new Washoku lunch at Hilton brings you an all-you-can-eat feast that indeed lives up to its translation, 'food of Japan'.

Washoku, is at its heart, a simple preparation of rice with a vast array of side dishes made with a variety of seasonal ingredients. It's this wide variety of dishes that allows the meal to become a palette of flavours and colours attuned with nature and in turn portray Japanese aesthetics and style.

This style of eating emphasises the dishes' natural flavours rather than masking them with sauces or seasonings. They are low in calories making it a wonderful diet to commit to. You can enjoy this "art of Japanese cuisine" at Hilton Colombo's all day dining restaurant, Graze Kitchen. The buffet will take place on 27 September at Graze Kitchen from 12 p.m. to 3 p.m.

Washoku is considered to be the most traditional Japanese cuisine and the healthiest. The health aspect of Japanese food has contributed to its rise in popularity around the world. Consisting mainly of minimally processed foods like steamed rice, noodles, fish, tofu, natto, seaweed, and fresh, cooked, or pickled fruits and vegetables, which are all low in fat and heavy with natural nutrients.

Sushi is a big element in a typical Washoku meal; Hilton's guests are spoilt for choice at the sheer amount of various types of sushi and sashimi available. Essentially, sushi is an extremely healthy food option. The Tuna Roll is rich in omega-3, the avocado roll is high on heart-healthy fats and fibres and the California Roll is packed with many proteins from all the seafood inside it.

Most of the calories come from the sticky rice that's holding your sushi together, the highest being around 80 calories. Maki Rolls, which is a type of sushi made with sticky rice, fish and dried seaweed, only contains as few as 48 calories per piece. Some of the other sushi items are Tamago Maki, Spicy Tuna, Inari sushi, Nigiri sushi (live station) along with other Japanese favourites such as, Katsudon Chicken, Yaki Tori (Chicken Skewers) Okonomayaki (Japanese style pancake), Crispy Tempura, Panko fried Pork Loin and an array of Yaki Gyoza (grilled pork and vegetable dumplings with soya sauce, vinegar, mustard and chilli paste).

For the sweet tooth, Japanese "Daifuku" is a must try. Daifukumochi, which literally translates to "Great luck", is a small round mochi (glutinous rice cake) stuffed with sweet filling made out of sweetened red bean paste.

At Hilton Colombo the Washoku lunch provides guests with non-contact action stations, so you can watch your food being prepared, fresh, right in front of your eyes; the mouth-watering aroma wafting through, courtesy the incredibly skilful chefs, is sure to set off your appetite.

When making Japanese food, it is important that the seafood is fresh, with the live-action stations, guests can ensure that only is the meat fresh, it's of the highest quality as well all prepared by Japanese Chef Hikaru Takahashi and his team. Hilton's patrons are promised an authentic Japanese cuisine experience, and they deliver it.