MLH Chairman and MD Sanath Ukwatte and Swiss Ambassador in Sri Lanka Hanspeter Mock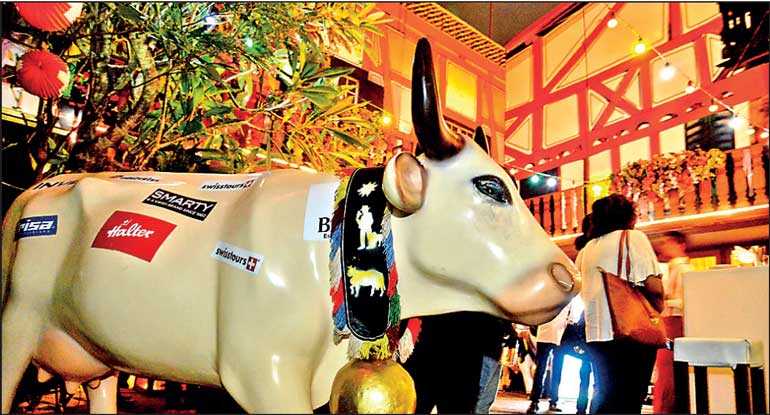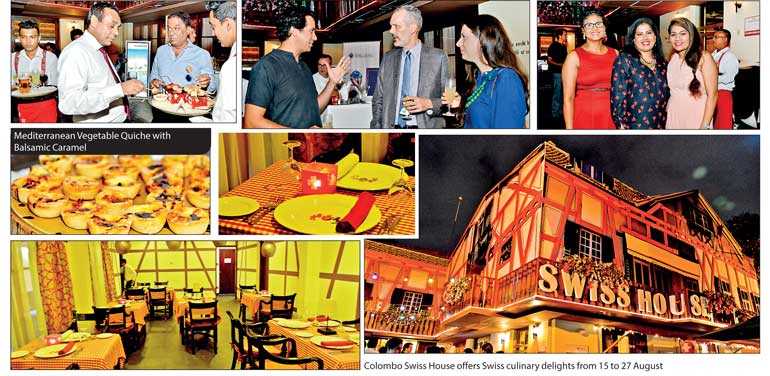 ---
First-of-its-kind pop-up restaurant showcases the best of Swiss cuisine paired with fine wines
The Swiss Embassy in Colombo in partnership with the Mount Lavinia Hotel has launched a delightful dining experience with a difference – a pop-up restaurant featuring Swiss cuisine in Colombo.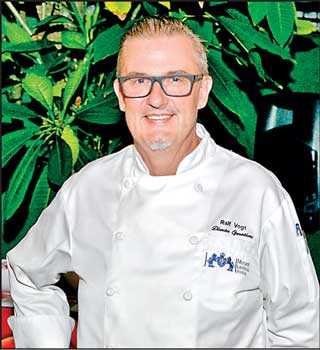 MLH Director Operations Food and Beverage Ralf Vogt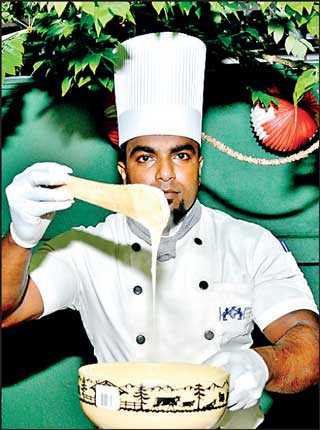 The highlight of the launch was undoubtedly the fondue station


Swiss House Colombo opened to the public yesterday (15) and will run until 27 August, showcasing the finest of Swiss cuisine, including some fabulous fondue and raclette. Park Street Gourmet is the Wine Partner for the event.

Colombo Swiss House is located at 138/4, Kynsey Road, Colombo 7 (next to the UNOPS office) and was launched as part of the celebrations to mark Switzerland's founding anniversary, which falls on 1 August, dating back to 1291.
Authentic Swiss cuisine
Speaking at the media launch of the restaurant on Monday, Swiss Ambassador in Sri Lanka Hanspeter Mock confirmed the authenticity of the dishes being served up, revealing that the ingredients had been brought down from Switzerland for this exciting promotion.

"Some months ago we spoke of having a Swiss restaurant in Colombo for a couple of weeks, it was a wonderful idea which has today become a reality, as part of Swiss National Day celebrations. It is a privilege to have this wonderful Colombo Swiss House where we will be offering Swiss culinary delights from 15 to 27 August. Mount Lavinia Hotel, our traditional Event Partner, is running this restaurant, which guarantees the quality," asserted Mock.

Mount Lavinia Hotel Chairman and Managing Director Sanath Ukwatte hailed the setting up of the restaurant, noting that it was a trendsetter and welcoming sign to have a pop-up restaurant being done by an embassy for the first time in Sri Lanka.

"With Swiss House Colombo, we have set a trend among the diplomatic community in the country at a time the country and the tourism industry are facing challenges. It is very encouraging of the Swiss Embassy to start this. Last year almost 20,000 Swiss nationals visited Sri Lanka and it is very important that we maintain our connectivity, links and friendship with a country like Switzerland. A lot of Swiss products are being showcased at this event, apart from the traditional Swiss cuisine," he added.

While Swiss cheese is the key feature of this fabulous feast, diners also have a chance to win many attractive prizes via the lucky draw being held every night. When these two weeks of culinary delights come to a close, one winner will also win a ticket for two to Zurich.
A taste of Switzerland
"Tonight we just have a few snacks, like sausages and quiche, and especially a cheese fondue station. It's all about the little stuff. But the main thing will be a la carte," explained Mount Lavinia Hotel Director Operations Food and Beverage Ralf Vogt. And if the "little stuff" is anything to go by, this limited time offering is certainly a value proposition. The excellent homemade Chicken Bratwurst Sausages and the exquisite Mediterranean Vegetable Quiche with Balsamic Caramel were among the crowd favourites at the media launch, while the Champignon Croquette served alongside Garden Herb Aioli was another outstanding creation. Those three dishes encapsulated Swiss cuisine quite neatly with its many regional influences, such as French, German and Italian cuisines, all shining through. But the most iconic and traditional of Swiss dishes eschews the complex in favour of bolder, no-frills, flavours. I am of course referring to cheese.
Fabulous fondue!
The highlight of the launch was undoubtedly the fondue station! Small cubes of white and brown bread were liberally served up for guests to dip into simmering pots of authentic Swiss cheese and there are scarcely any words to do justice to the experience. Rather, the only suggestion would be to mark a day down in your calendar and try it yourself. A communal experience if there ever was one, it's also advisable to bring a crowd. No Swiss meal however would be complete without chocolate, and fittingly we were treated to a Toblerone Mousse among other dessert delights, a fresh and delicious take on one of Switzerland's most famous exports.

As Chef Vogt said though, this was just a few of the snacks, with the main event from 15-27 August set to feature some 30 dishes, including hearty items such as Pork Meatloaf, Braised Sour Beef, Roasted Lamb Rack, and of course the iconic cheese fondue. When done right, Swiss food is a rare treat not to be missed so head on over to Colombo Swiss House and treat yourself!
Pix by Daminda

Harsha Perera