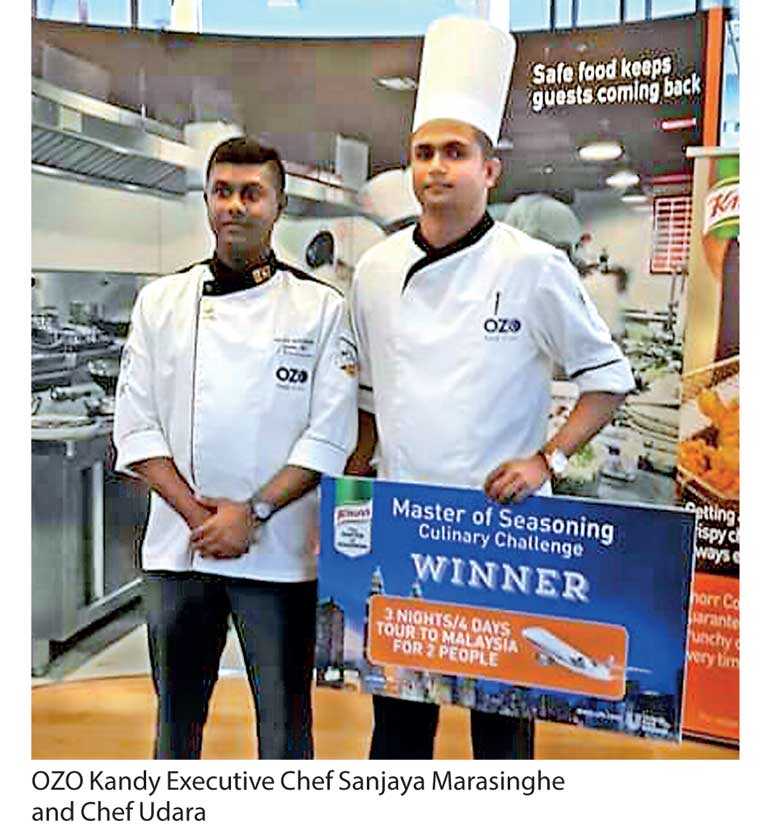 Chef Udara of OZO Kandy emerged the winner of Master of Seasoning Culinary Challenge 2018, organised by Unilever Food Solution. The competition aims at helping chefs all over the world serve tasty, wholesome meals that keep guests coming back for more. Master of Seasoning Culinary Challenge 2018 took place across the country, offering chefs the opportunity to win a trip to Malaysia for a culinary masterclass with all of the global winners.

A total of six chefs from different regions of Sri Lanka took part in the competition, where Chef Udara emerged victorious. All contestants were part of a Black Box challenge, where they were given 90 minutes to create a menu and prepare a dish with a limited number of ingredients. The judges were strict on personal hygiene and high maintenance of cleanliness in the work stations.

Chef Udara is the Chef De Partie at OZO Kandy, responsible for the total preparation of all meals at the hotel, ranging from the buffet line to à la carte items in accordance to the highest standards required by the OZO brand. He is also in charge of ordering and controlling ingredients, raw materials purchasing and to ensure minimised food wastage and cost. Sharing his sentiment on the recognition, Chef Udara said, "I am grateful to Chef Sanjaya, Management of OZO Kandy and my kitchen team for giving me the opportunity to participate in this event and for the support extended. I am also thankful to Unilever for taking the initiative to organise a competition of this nature, which is recognisable on a global platform. These competitions inevitably support recognition of the hospitality industry as a whole and are very beneficial to Sri Lanka."

Situated at the heart of the country's central capital, OZO Kandy achieves the perfect balance of charm and comfort, uniquely designed to allow each guest to rediscover the magnificent city of Kandy, as they experience the grandeur of a famed ancient kingdom, venture into a time gone by and explore a bustling, vibrant hill station teeming with life.