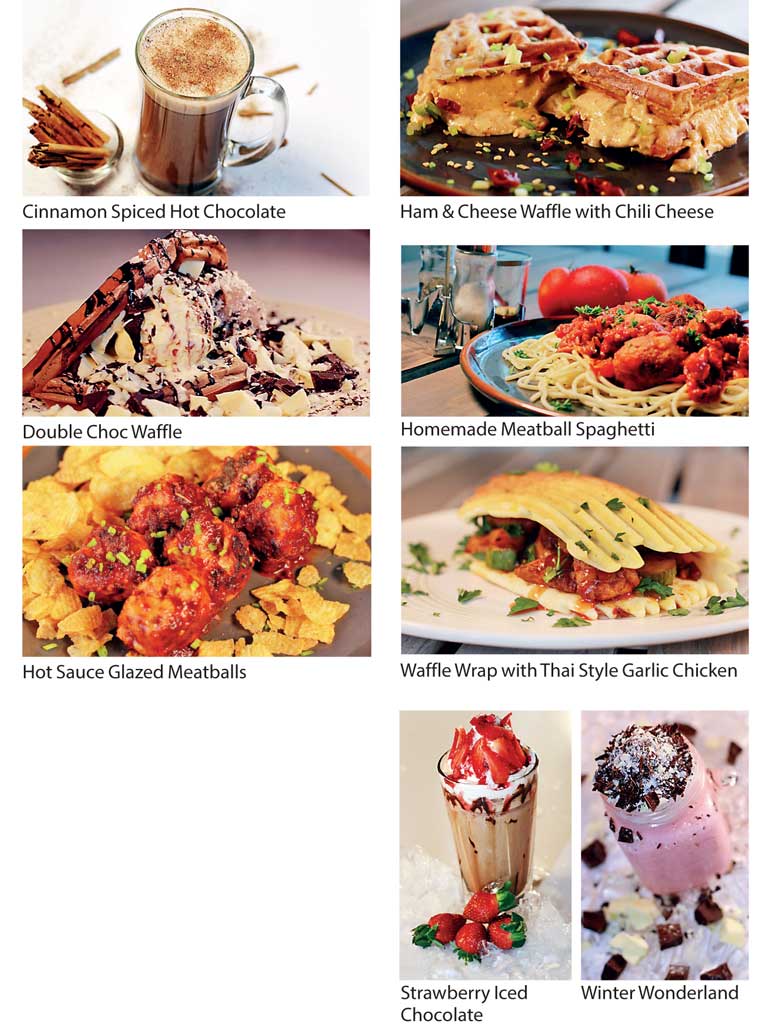 Despite the chill in the air, one of the greatest things about the Christmas season is the warmth that it brings with it. And no one exudes warmth like The Cauldron, Colombo's favourite café for the season. To add to its buzzing ambiance, the café is also introducing a range of seasonal themed treats to their eclectic menu.

Joyously celebrating the first Christmas with food, drink, art and love, The Cauldron will be open from 7am to 12midnight daily during the season. Among the Christmas-themed goodies coming out of The Cauldron kitchens will be a range of waffles topped with both sweet and savoury concoctions.

For the savoury lovers there is a Creamy Ham & Potato Waffle with Cheese Sauce, whil e those who prefer a spicier kick can opt for the Waffle Wrap with Thai Style Chicken & Caramelised Onions. The Homemade Meatball Spaghetti with Red Sauce and Hot Sauce Glazed Meatballs are also perfect for a healthy and filling main meal.

Chocoholics will go simply crazy with the Waffle Insanity with Ferrero Rocher which is simply layers of Coffee Waffles with Irish Cream and dollops of Ice Cream topped with Ferrero Rocher Chocolate. This is not for the faint-hearted. If you prefer less of a sugar rush then the Double Chocolate Waffles with Ice Cream is also a great treat.

To wash down all that glorious food, The Cauldron is also introducing a Strawberry Iced Chocolate and a twisted taste sensation that is the Cinnamon Spiced Hot Chocolate. The café's regular Hot Chocolate has been the talk of the town and the hint of Cinnamon added to spike the drink is sure to become a favourite too.

For those who prefer a dessert in a glass Winter Wonderland is a jar of pink madness topped with white and dark chocolate to satisfy every possible craving that you could have. Reminiscent of a pint volcano overflowing with snow lava this yummy drink is sure to delight.

The Cauldron is also looking forward to expanding their unique range of Sri Lankan and Western Fusion on the menu regularly depending on the season and customer feedback.

As a space for the young and old budding dreamers, The Cauldron will also host several open mic sessions during the month of December after two initial sessions were highly successful and packed house.

The café invites everyone from budding artists, singers, song writers, rap artists, poets and the likes to showcase their skills in the month of December. For more information please call The Cauldron on 0112 366243.