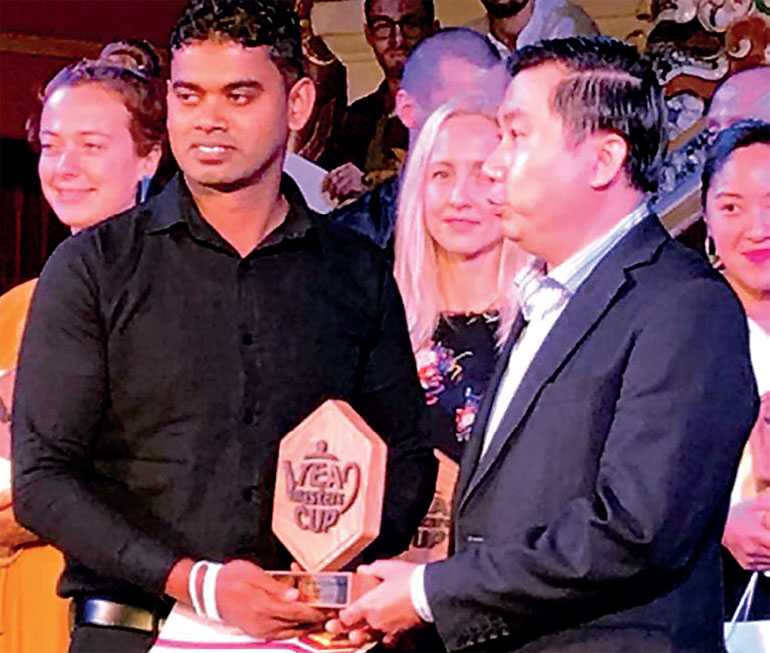 Yasaratne Bandara receiving his award from the Tourism Department of Hue Province Vietnam Deputy Director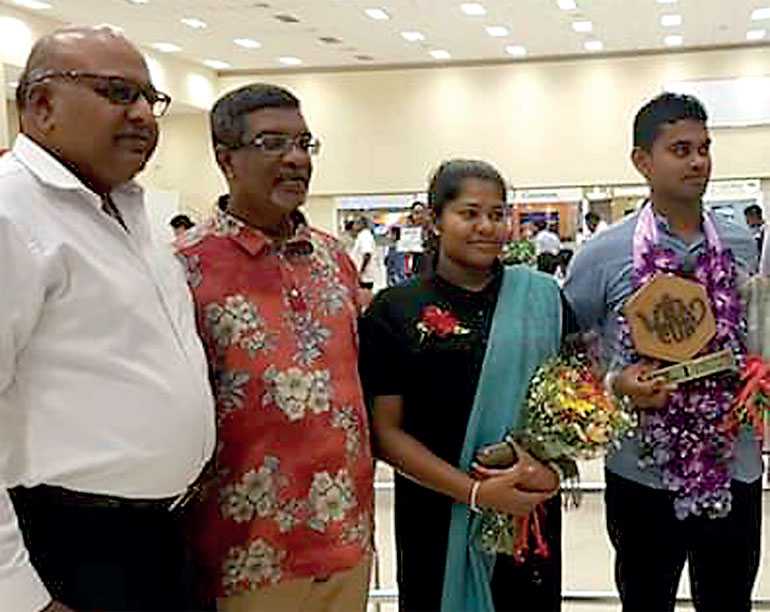 Panchali Mandakini and Yasaratne Bandara felicitated on arrival by Trevine Gomez and Samantha Gunarathna
---
It was a memorable day for Yasaratne Bandara, one of the award winning contestants of the 2018 Tea Masters Cup International in the Tea Mixology category, held in Vietnam from 23 to 27 November.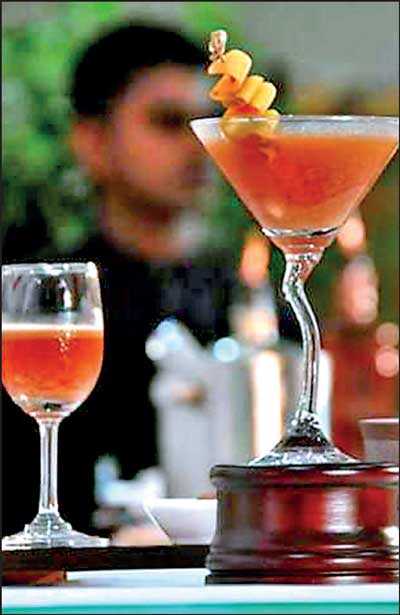 He took part in the maestros' challenge among several international contestants and made our country proud. The two finalists who participated were selected at the Hotel Show 2018, organised by Ceylon Hotel School Graduates Association (CHSGA).

The two winners, Yasaratne Bandara in the Tea Mixology and Panchali Mandakini in the Tea Pairing categories, who participated at the Tea Masters Cup International was organised by CHSGA and sponsored by the Sri Lanka Tea Board and Lumbini Tea Valley Ceylon.

The four categories of the competition were Tea Preparations, Tea Pairing, Tea Mixology and Tea Tasting. Anil Cooke, Consultant to the Tea Board was instrumental in fine tuning the talents of the contestants. His goal was instilling in them how to make tea approachable, interesting and informative so that the judges could enjoy the benefits of the leaves and appreciate the art of the tea presentation.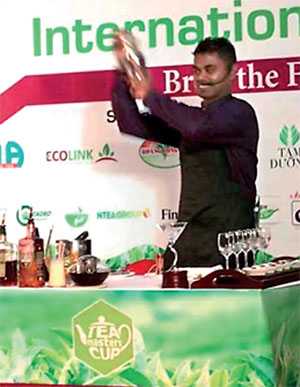 Yasaratne Bandara presenting the winning presentation of the Tea Mixology
Yasaratne Bandara who won the coveted title under Tea Mixology said, "I feel privileged not only because I won the prize, but also because my choice of tea I used for my tea cocktail, which is a highly specialised blend of Sri Lankan Black Tea in rosette form. The tea is carefully chosen from over a thousand varieties of tea leaves, which gives it the aroma and taste that is unmatched. For my local Mixology, I chose a Tea Cocktail aptly named 'Serendipity', which was a mix of black tea, raw mango juice, jaggery, lemon grass, crushed all spice leaves, Arack and Amarito. I acquired a passion for tea mixology during my hotel career and it is like a dream come true. I will never forget this experience and exposure."

He added, "The competition encouraged me to create an innovative cocktail blend and think outside the box. We pushed ourselves far beyond what we thought we could ever achieve and you can really see growth in our skills set and confidence. I hope to win more medals in the future."

CHSGA President Samantha Gunarathna commented, "The process was incredibly involved, our tea masters invested countless hours researching, training, experimenting with recipes, concepts, colors, textures, ingredients and different presentations. They are the talk of the town and have made Sri Lanka proud. I am certain next year's competition will bring more accolades to our country."

Hotel Show Organising Committee Chairman Trevine Gomez, who was instrumental in initiating the Tea Masters Cup in Sri Lanka, stated, "Our goal is to change the perception of tea from a routine beverage to getting people to embrace tea with great flavor, style and passion for this relaxing beverage. We want to encourage people to try a new type of tea, either to invigorate your palate or to make you feel better."

He concluded, "Described as a culinary art, the tea pairings were presented with elegance and flare, reflecting the cultural nuances of Sri Lanka."