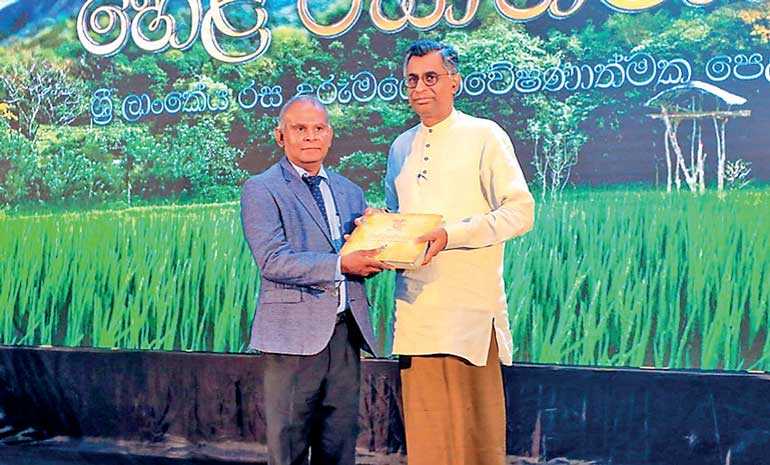 Waters Edge Chairman Chamara de Silva handing over the first copy of the book to Minister Patali Champika Ranawaka
Thuna Paha, the signature restaurant that serves authentic Sri Lankan cuisine at Waters Edge, in its quest to be the first Michelin-starred Sri Lankan restaurant in the world, has launched an all-new book of recipes, inspired by ancient traditional island recipes.

Titled 'Hela Rasaabhimaanaya', the book of recipes is Sri Lanka's pioneer research-based compilation of an ageless ancient food heritage, which offers a gastronomic journey built upon the objective of re-awakening the deep-rooted traditional recipes that spans many decades and brought Sri Lanka to its peak of culinary goodness. Each page of 'Hela Rasaabhimaanaya' features a perfectly calibrated mix of raw and cooked ingredients with specific nutritional purposes.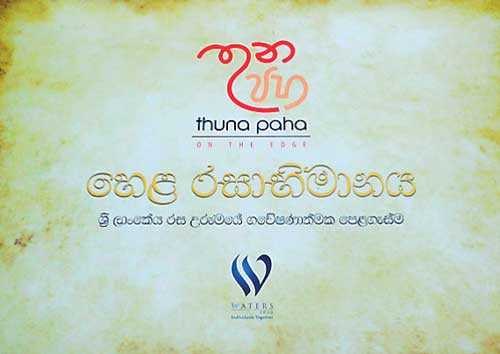 Living up to the reputation of Thuna Paha for deft interpretations of timeless dishes from around the country, the said compilation of delectable recipes is a concept brought to life by Waters Edge Chairman Chamath De Silva, under the guidance of Megapolis and Western Development Minister Patali Champika Ranawaka.

Minister Patali Champika Ranawaka, during the launch event revealed that 'Hela Rasaabhimaanaya' is the result of many years of research that supported the enduring vision of propagating the legendary cuisine of Thuna Paha to the rest of the world, and in the near future the restaurant would spread its wings to Melbourne, Australia.

Richly endowed with over 500 food recipes, the valuable publication strategically endorses more than 140 food items that are exclusive to Sri Lanka with at least 3 creative ways of cooking each food item. 'Hela Rasaabhimaanaya' also features an informative excerpt on spices, condiments, seasonings and herbs with an insight into the vibrant history of spices in Sri Lanka, India, Egypt, China, Greece, Rome and Mesopotamia.

Spanning certain unique techniques of cooking such as 'Niyambalawa', 'Kirata Piseema', 'Malluma', 'Aanama', 'Hoddha' and 'Ambula', each technique has been explained reflecting seasonal bounty from different geographies and cultures of the country, with an eye on how they have evolved through the generations.

Spanning no-cook natural porridge (Kola Kenda) combinations and raw salads to luxurious dishes suitable for entertaining, the recipes are organised in logical chapters, for easy navigation with bold images and clear contents. Each recipe's standout ingredients, their scientific names, and the medicinal values are clearly highlighted and simply communicated. The ardent cookery enthusiasts can therefore select menus according to personal taste and occasion, following the recipes precisely or experimenting with the different techniques and flavour combinations.

Commenting on the launch of the first of its kind book of recipes by the signature restaurant, Waters Edge Chairman Chamath De Silva commented, "We at Waters Edge are pleased to launch our first research-based traditional-inspired book of recipes in response to taking our ancient food culture to the world with the enthusiasm for our deliciously distinguished Thuna Paha cuisine. This book of recipes is the result of research conducted through the University of Sri Jayawardenapura, with information on the historical food culture of Sri Lanka, by visiting many villages across the Island. Each recipe has been prepared and tested by Thuna Paha prior to the launch. The book also allows readers to recreate the most delectable dishes from the very own kitchens of Sri Lankan homes of a bygone era and relive special memories from their childhood whilst re-awakening the goodness of those very special, handmade recipes.

Located amidst a waterway, enclosed by sheer greenery, Thuna Paha embodies the uniqueness of a Sri Lankan food heritage with award-winning chefs who possess the passion and flair to make ordinary ingredients taste extraordinary. Thuna Paha offers its diners a truly holistic experience in dining with scheduled performances of Sri Lankan folklore and cultural entertainment.

'Hela Rasaabhimaanaya' is published by the Department of Strategy Initiatives of Waters Edge and is now available for purchase on www.watersedge.lk.