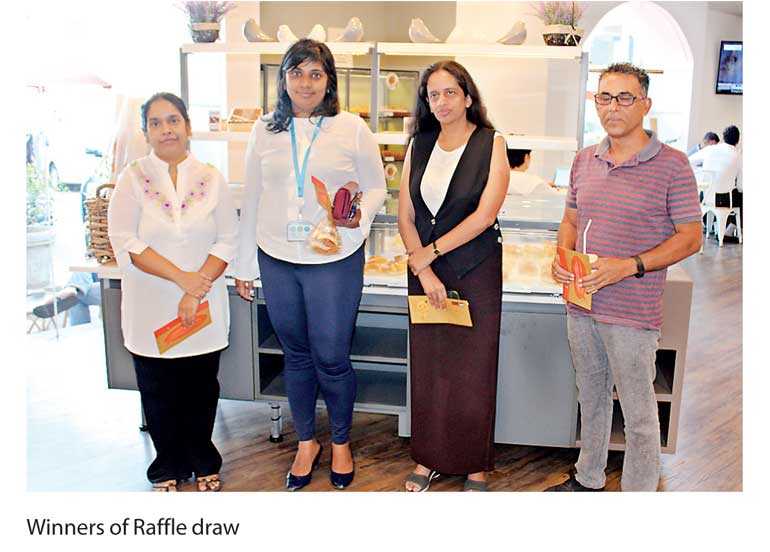 New BreadTalk outlet opens in Ratmalana
BreadTalk announces the winners of December 2017 raffle draw
The beginning of 2018 saw the boutique bakery opening its latest outlet in Ratmalana, increasing its reach up to nine outlets. The Singapore-based franchise is currently in the process of spreading its wings and moving into big neighbourhoods, as revealed BreadTalk (Sri Lanka) Director/CEO H. A. P. Anusha Athukoralage. "Getting into big neighbourhoods like Ratmalana is all about giving people the opportunity to utilise BreadTalk for celebrations of any type, be it a birthday party or an office meeting," Athukoralage said.

Foodbuzz Ltd. (BreadTalk), a fully owned subsidiary of RIL Properties PLC, specialises in the finest breads, gourmet desserts and bakery items, and its doors are open to foodies from all walks of life. Since its incorporation in 2011, BreadTalk has revolutionised the way people look at bread, bringing in new innovations and creating an exhilarating culture around the art of bread. Despite the innovative twist to its products, BreadTalk's doors are open to every customer. "We have something for everyone," said Athukorala. The local 'malu pan', for instance, is a 'What a fish' in BreadTalk outlets and sports a spicy filling along with a BreadTalk twist to the bread.

Winners of the 'Taste of Singapore' raffle draw hosted by BreadTalk in December 2017 drew to a close at the new Ratmalana BreadTalk outlet on the day of its opening, and winners walked away with an exciting array of gifts on 21 February. The first prize winner, A. S Jayawardena, received a tour of Singapore, while the second prize winner, Wyomi Abhayaratne, and third prize winner, Maryam, won a 32' LED TV and a Samsung J7 Smart Phone, respectively. BreadTalk also didn't forget to give away 10 consolation prizes as vouchers of Rs. 10, 000. The competition drew entries from over 4, 000 hopeful contestants.

BreadTalk is also innovating traditional flour-based food in Sri Lanka, giving them a BreadTalk twist. "We were given the liberty of localising flavours," Athukoralage stated. The BreadTalk brand works with ingredients and flour that have been imported from Singapore. However, with the blessing of its parent company in Singapore, BreadTalk Sri Lanka is exploring innovative products that appeal to the palate of its Sri Lankan consumers.