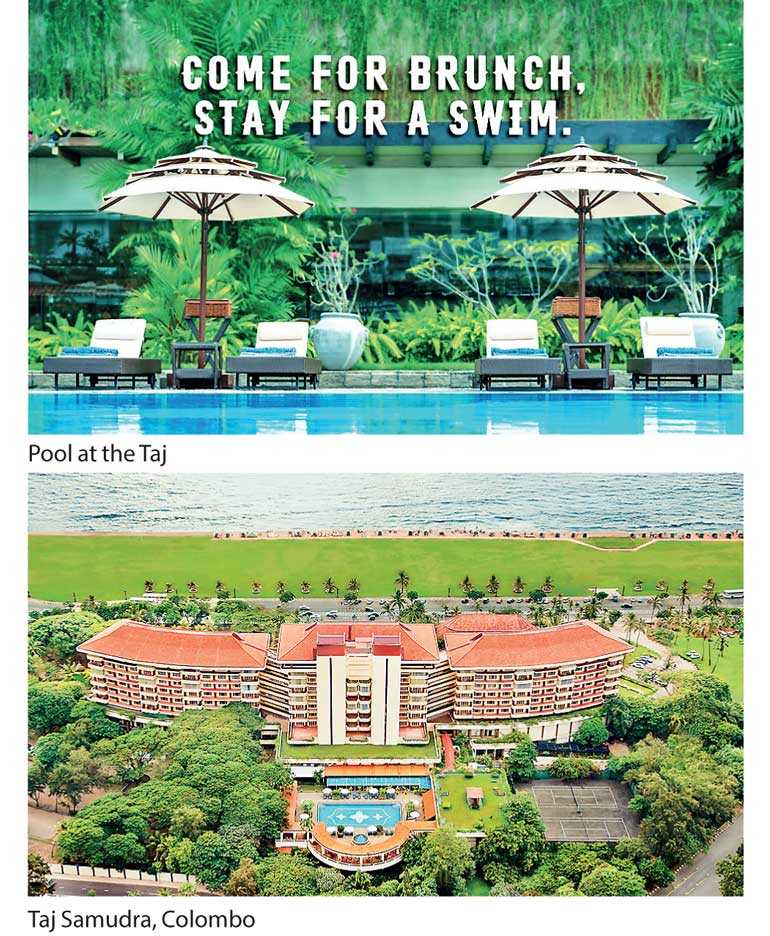 'Come for Brunch, Stay for a Swim'
Taj Samudra Colombo is rolling out a Sunday brunch with an international cuisine at the Ports of Call restaurant every Sunday. This gastronomical journey with the flavours from Americas to Japan will take off from 12 noon to 3:30 p.m., at this metropolitan oasis.

Opened to locals, expats, friends and families, this Sunday brunch themed as 'Come for Brunch, Stay for a Swim', allows complimentary pool access. Enjoy live entertainment with calypso music, take a dip in the pool, relax and reenergise yourself. Eat and enjoy to your heart's desire, as the hotel prioritises on choice and customisation.

Start from a welcome beverage and an oyster cocktail bar probably with a shot of Bloody Mary in Freshly Shucked Oysters. A wide array of appetisers and salads awaits vegetarians and meat lovers alike, with Roasted Lamb Salad with Raspberry Dressing, Roast Vegetable Antipasto Platter, etc. Preparation, mixing, seasoning of salads are customised as per guest preferences – single salads, preserves and pickles including pickled cucumber Cornichons and Sauerkraut which is a healthy type of fermented cabbage, traditional French appetizers Crudits in sliced vegetables are in the menu.

Top quality cured, meats will also be served with an International Charcuterie Counter Pork Belly Pudding with Apricots, Duck Pate with Port Jelly, Prosciutto, Crudo (Italian dry-cured ham), Bresaola and many more. "We process cold meats in house according to our own recipe. Our chefs are curators of delectable food," stated Exec Sous Chef Samila. At action carvery stations go for your choice of meat cuts – Beef Briscket, Crackling Roast Pork, Baked Red Mullet Fish to name a few.

A Live Kitchen with a seafood grill with the scrumptious lobster and crab, an oyster bar on ice; Seafood fountain with raw and smoked preparation includes mussels, clams and octopus and Ceviche of Tuna.

The endless list continues! An incredible spread also places much emphasis on Japanese cuisine with tempuras, maki and nigiri- King Prawn Tempura, Calamari Tempura, Baramundi Tempura, Crab Stick Maki, Salmon and Avocado Maki to name some of the popular ones. Dishes of the Middle Eastern and Arabic flavours with Hummus and a specialty Chaat counter with savoury snacks of India await to satisfy your taste buds.

Over 15 main dishes resemble cuisine from the West to East, with Rosemary infused Grilled Lamb Chop with Mint Jus, Moroccan Spicy Braised Beef with Root Vegetables, Stuffed Chicken Roll with Hara Sauce, Chinese Pork Spare Ribs, Japanese Cuttlefish Teppanyaki and Gosht biriyani etc. For those who prefer Ceylonese fare, the Asian corner with Chicken Curry in Village Style, Fish Head Curry, Spicy & Tangy Ambaralla Ambula, Lotus Root Tempered and Jack Seeds Curry.

At the Taj, kids are special too. Kiddies corner does freshly tosses and garnish at kids own request -a variety of mouthwatering crispy fish and chips will be served in addition to the Italian corner.

A perfect ending to a great meal! Satisfy your sweet tooth over 20 desserts with hot and cold brulets, pies, tarts, mousses, tiramisu, handmade chocolates and panna cottas along with traditional Sri Lankan sweetmeats. Do not miss on Dessert Actions with Baba Au Rhum and Chocolate Fountain.

Sunday brunch is priced at Rs. 3,900 nett and for kids, the brunch will be at a special price of Rs 2,500 nett. For details and reservations please contact 2446622.