Last Good Friday, the state of Victoria and its capital Melbourne carried out yet another successful Good Friday Appeal (GFA) funds raiser for the Royal Children's Hospital in Melbourne. The collections from the public closed by 5 p.m. at a staggering 17.5 million dollars.

The hospital is a state-of-the-art top facility with a hugely qualified and experienced medical staff. It is said that these dedicated doctors, nurses and ancillary staff perform miracles every day. My own fourth grandson was born with his heart not properly located.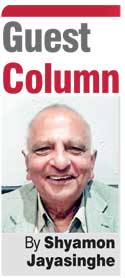 The Royal Children's Hospital fixed the problem after a series of surgeries. The fellow is grown up and strong now. That was miracle we experienced. Similar ones are being achieved on a daily basis in this hospital.

This hospital has a lot of public funds flowing into it voluntarily on days other than the GFA day. There are whole bequeathed estates rolling over to it.

The Good Friday Appeal is a specific campaign and it is very well organised throughout the state. All funds collected are counted at the end of the day at the counting centre. It is like election counting night in Sri Lanka. Voluntary organisers are waiting to hear the results of the count.

The Lions Club to which I belong also carried out a door knocker from morning until 12 noon and we got $ 4,506.40 from our effort. I was the project manager. Similarly, various other voluntary organisations at all levels put in their weight on this great day.

In Australia, charity organisations have to be registered under the Australian Not-for-Profit Commission (ACNC). In the year 2014, $103 billion from all Australia flowed into the economy from various charities and also bequests. There are 11,823 community charities and 610,755 registered volunteers.

Isn't this a significant contribution to the society's wellbeing? The economy derives funds without taxation although many of the formally set up organisations do get tax exemption. However, there are thousands working outside the formal system and at almost every level. I write this because the thought occurred to me that Sri Lankan policymakers can shift attention to an invaluable funding service while at the same time people derive a sense of satisfaction in participating in charity work for worthy causes.

It may be a good idea to set up an agency like the ACNC, which can also initiate and provoke charity fundraisers in the wide community. Many of our Ministers are doing nothing although pretending to work. Why can't this job be assigned to one of them? Doctors in Australia don't strike on public policy matters like their counterparts in Sri Lanka. They themselves are seen actively working for the Royal Children's Hospital fund raising events.

Sri Lanka has its own Lady Ridgeway Children's Hospital. Why not start there? The ordinary public will willingly give up some notes on a given day – say, Vesak? One very important precondition for a campaign like this in Sri Lanka is that an independent body set up under statute should hold and disburse the funds. This is important for public trust. If there is no trust, there is no charity coming.

In the diaspora, we are facing difficulties when organising fundraisers for Sri Lanka because Sri Lankans here do not trust that the money donated will go to the right spot and for a genuine purpose.

"Will it be siphoned off for more luxuries for the parasitic political class?" they ask.

On the other hand, if a credible independent body run by credible men and women handle the collection and disbursement, as proposed above, this ruling cynicism will disappear.